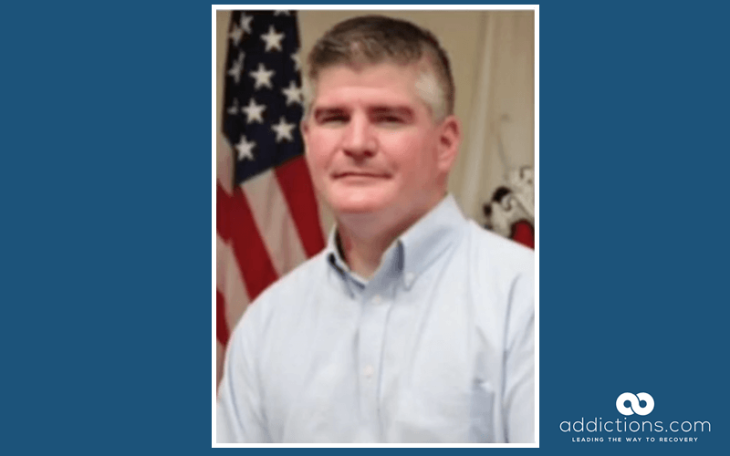 A Randolph Town Councillor has been released on personal recognizance after being charged with possession of methamphetamine.
James Burgess Jr. (49) was arrested in February at his Fairmont Street home in Randolph Massachusetts, along with Scott Donaghue (33), of the same address. Donaghue has been charged with distribution of methamphetamine and Burgess the lesser charge of possession.
A 16 year Randolph Selectman described by his neighbor, Jose Ruiz, as 'An excellent Selectman and a great guy,' James Burgess also previously worked for the Norfolk County Sheriff's Department. In June 2016, Burgess announced to his supporters that he would be running for State Representative but later confirmed that his campaign had been unsuccessful.
Burgess's arrest came after police obtained a warrant to search his property on Fairmont Street after a four-month investigation. Burgess, who declined to comment on leaving the Quincy courthouse after his arraignment on February 7th, pleaded not guilty to charges of conspiracy and possession of methamphetamine. Burgess admitted to using one ounce of meth that was found in his bedroom nightstand.
Although Judge Mary Orfanello elected not to impose bail, the Selectman was prohibited from using drugs or alcohol for the duration of the case and may be subject to random drug testing.
Following the arraignment, approximately 24 Randolph residents held a 'peace vigil' to voice their public safety concerns and to demand transparency regarding the charges. Gordon Goldstein, the Council President, released a statement saying the council takes the charges seriously but asks to "allow justice to take its course."
Meth is a powerful and highly addictive central nervous system stimulant. Used recreationally, the drug, usually known just as 'meth' produces an intense high followed by a severe 'comedown.' The crystal form of methamphetamine, known as Crystal Meth or Ice, is a white crystalline drug taken by snorting, smoking it or injecting and is a Class A illegal substance.
Scott Donaghue who was arrested alongside Burgess and thought to have supplied the Selectman with the drug was charged with trafficking methamphetamine, possession of cocaine, Ecstasy pills and hallucinogenic mushrooms with intent to distribute and conspiracy to violate drug laws.
Donaghue's arrest followed a search of two rental units in Donaghue's name during which detectives found 3 grams of cocaine, 5 grams of hallucinogenic mushrooms, 16 Ecstasy pills, 27 grams of methamphetamines and $1,215 in cash. Burgess was held on $6,000 bail.