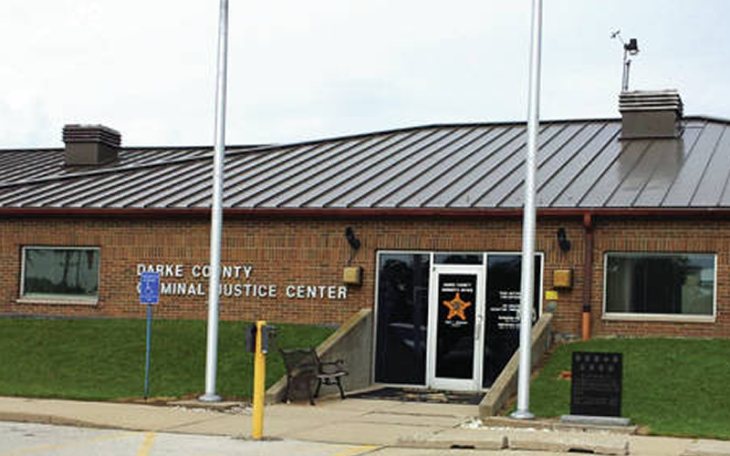 The Darke County Jail has been shut down due to a meth spill and contamination that occurred around 1 p.m. on Tuesday. While none of the inmate wards were impacted, the jail had to be evacuated and shut down after the booking area was contaminated.
During a routine booking of a suspect, Stephen Garner, into jail, officers found baggies of an unknown white substance. While the exact timing has not been determined, one of the baggies was opened, causing the white powder to spill out onto the floor and several of the correction officers and deputies.
As a result, the jail was put on lockdown to address the cleanup and to avoid further contamination throughout the prison. Additionally, those officers and the inmate exposed to the white substance, which was later identified as meth, were hospitalized at Wayne Healthcare due to symptoms relating to the spill. Some of the individuals that were exposed also received Narcan.
The spill was contained, and the area was decontaminated within a two-hour period, allowing the jail to resume normal operations. Testing was done by the Miami Valley Regional Crime Lab, which was able to determine that the white substance was meth.
However, once the air handlers in that area were turned back on Wednesday morning, ten additional officers complained of symptoms and were later hospitalized as well joining their fellow officers at Wayne Healthcare for treatment. The authorities believe that when the powder was spilled, it was drawn into the air handler for the booking area of the jail, causing toxic exposure for the staff, officers, and inmates in that area.
Altogether, 14 officers received treatment, along with Garner, who is now in the custody of the Ohio Adult Parole Authority.
The process to address this contamination, which was deemed extensive enough to make the booking area unusable, was to evacuate the jail and shut down the facility for cleaning and decontamination. The jail itself uses multiple air handlers, so other areas, including the 911 dispatch and road patrol, were not impacted.
Inmates were transferred to Miami County and Mercer County jails, and they will remain in other facilities until a private contractor with environmental credentials can clean and decontaminate the affected area.
While most everyday operations will continue for the sheriff's department, the jail itself will remain closed. No further details regarding whether additional charges will be filed against Garner for the incident were released.