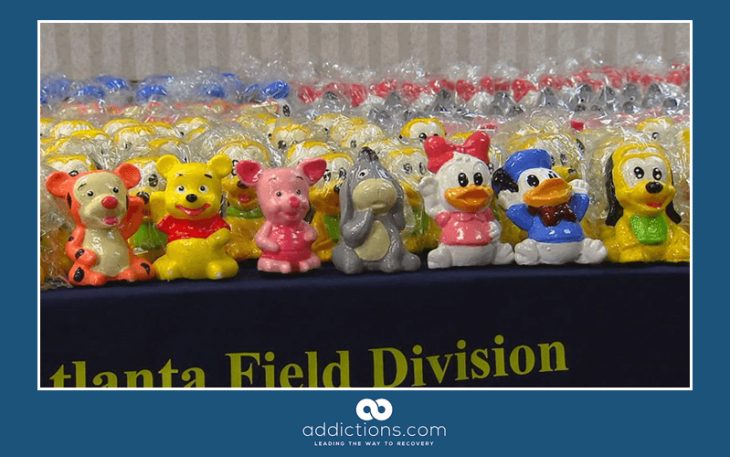 Authorities in Atlanta, Georgia have confiscated over 500 pounds of methamphetamine hidden inside Disney figurines, holding an estimated street value of $2 million.
Robert Murphy, the DEA Atlanta Division Special Agent, said the meth seizure is the biggest drug bust in Gwinnett County. The illegal drugs disguised inside figurines of Donald Duck, Pluto, Winnie the Pooh among other Disney characters.
According to the DEA, the drugs originated from Mexico and were bound for Atlanta. Murphy says another shipment of legit ceramic figurines was impounded and is thought to have been designated as a decoy.
Currently, there is an ongoing investigation involving the DEA, Homeland Security, the US Attorney's Office and the Gwinnett County Metro Drug Task Force.
Studies show that approximately 4% of Americans use methamphetamine, an illegal stimulant and schedule II drug that is highly addictive. Meth has been associated with a range of long-term illnesses including anxiety, tooth loss, and hallucinations.
Apart from marijuana, meth is the most commonly abused illegal substance in the US. Close to 569,000 Americans used meth in 2014, representing a 29% jump from 2012 when an estimated 440,000 people reported using the illicit substance. Nonetheless, overdose deaths related to methamphetamine are far lower compared to those from fentanyl, heroin and other opioids.
According to the US Centers for Disease Control and Prevention, 33,000 opioids-induced deaths were recorded in 2015, the most recent year for which information is available. Worse still, recent estimates point to an escalating crisis.
The opioid epidemic has been rapidly escalating in the US. President Trump's administration has vowed to "win" the battle against illicit drugs and rid the scourge that has swept the country.
It is estimated that drug overdoses kill 142 Americans each day based on 2015 statistics- a death toll said to be September 11th every three weeks.
Trump says his administration would introduce "really tough, really great advertising" to persuade Americans to desist from using opioids, a move seemingly harking back to Nancy Reagan's "Just Say No" campaign of the 1980s.
The President's Commission on Combating Drug Addiction and Opioid Crisis headed by New Jersey Governor- Chris Christie- has recommended a raft of new measures to subdue the opioid monster. In its preliminary report, the commission calls for expanded access to drug treatment for Medicaid recipients, development of non-addictive pain relievers, removal of barriers to treatments, opening up of drug courts in federal jurisdictions among others.