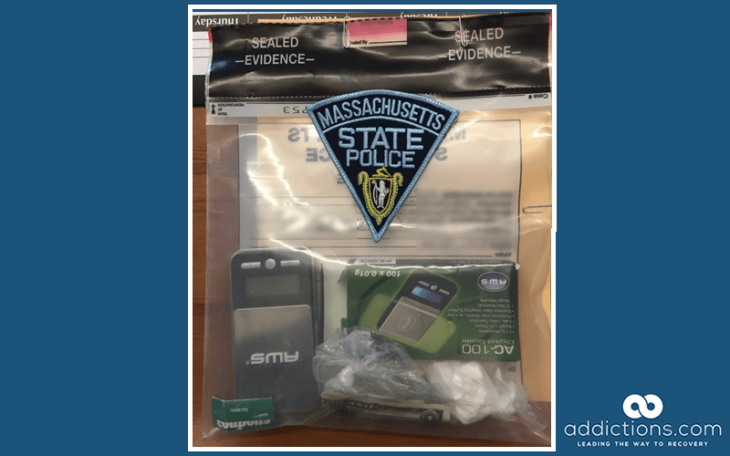 Massachusetts State Police stopped a vehicle with a tail light problem early in the morning of Feb. 9, 2018, and ended up arresting two men, one of them for carrying heroin.
The two arrested men, Jon Michael Ashner, 27, and Matthew Bielefield, were from Connecticut. They were driving north on Interstate 495 near Haverhill when the cops pulled them over for a broken rear light on their 2009 Subaru Legacy.
The officers discovered that Ashner wasn't licensed to drive the vehicle, which made them suspicious. They searched Bielefield and found he was carrying heroin and some prescription drugs, too.
Though Bielefield was charged with possession of the illegal prescription drugs and with having heroin, Ashner, who was charged with driving without a proper license, also faces a drug-related charge. Authorities charged Asher with being present where heroin is also being kept.
Bielefield was charged with possession of a class A drug with the intent to sell or distribute. Intent to distribute charges are usually filed based on the quantity of a drug someone is carrying – larger amounts bring distribution charges. He also faces charges of the possession of class E-prescription drugs. Those are defined under Massachusetts law as medications or compounds with lower levels of narcotics than class A, B, C and D drugs.
Class E includes some preparations containing small quantities of codeine, dihydrocodeine, ethylmorphine, diphenoxylate and atropine sulfate, opium (not more than 100 milligrams in 100 grams of medicine or 100 milliliters of fluid) and other drugs not covered by the other classes. Police did not name the particular class E drugs Bielefield was allegedly in possession of.
The two men were arraigned later on Feb. 9 in Haverhill District Court.