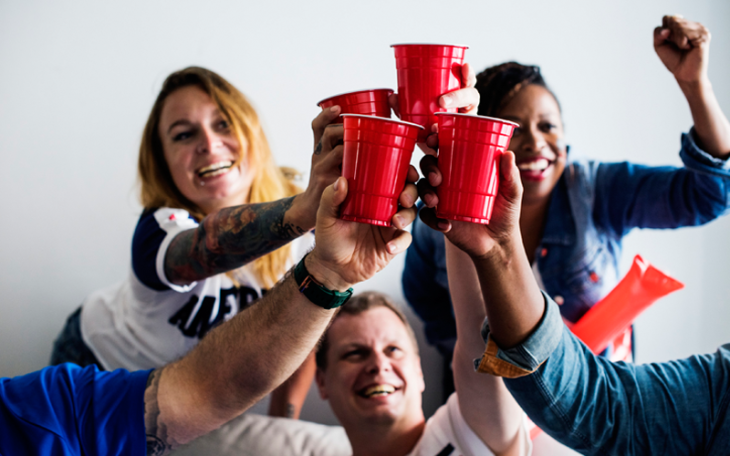 The annual NCAA basketball tournament, colloquially known as March Madness was found to boost binge drinking among male students at schools involved. A study published in September by the National Bureau of Economic Research shows clear links between the men's basketball tournament and binge drinking by college students.
The authors note that when a school's team plays in the NCAA men's tournament, binge drinking rises 30 percent among that school's male students, while self-reported incidents of drunk driving go up 9 percent. Statistical analysis in the study shows that students don't compensate by drinking less than normal in the period leading up to the tournament or after it has concluded.
Instead, they drink at their usual rate all the time, with a massive spike in binge drinking during the tournament.
No significant jump in drinking by female students at the schools in the study was found to match the increase among men.
Researchers Dustin R. White, Benjamin W. Cowan and Jadrian Wooten, used data from the Harvard School of Public Health College Alcohol Study, or CAS, for their analysis. CAS collected data from 43 colleges with sports teams at the NCAA's top division level in 1993, 1997, 1999 and 2001.
Crunching this data, White and the others found that almost 60 percent of men students at schools with teams playing in the March Madness tournament said they'd drunk to excess one more time than a typical male at a college not playing in the tournament. Students at schools in the tournament drank nearly seven more alcoholic beverages than those at other schools during March Madness, data showed. That's comparable to higher rates of alcohol consumption during college football games.
The researchers urged school authorities and public health agencies to consider the strong connection between college-level sports and dangerous drinking habits among students. A rethink of the way college sports are organized and viewed could have positive public health outcomes.
Multiple previous studies have confirmed connections between student drinking and college sports games, particularly football. One study also looked at Syracuse University students when the Orangemen won the NCAA tournament in 2003. It found students drank more than usual during the two championship game days.
Binge drinking is already more common among college students than other segments of the population. Peer pressure and misunderstandings about how much their peers drink contribute to this, studies have shown. Surveyed students were found to believe that their friends drank more than was true, a perception that might lead them to drink more themselves.
Another study showed that teaching students the truth about how much and how frequently their peers drink can cut down on binge drinking.
Cutting down on the availability of alcoholic beverages at games is another way to reduce binge drinking and its associated risks, the authors said.
Binge drinking is a known public health problem – it leads to poorer academic performance among students, as well as more drunk driving, vandalism, hooliganism and sexual assault.