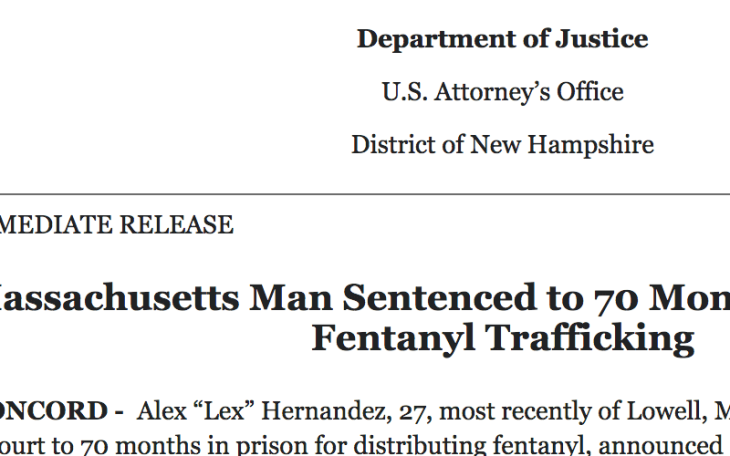 Scott W Murray, US Attorney for New Hampshire, has confirmed that a resident of Lowell has been sentenced to 70 months behind bars for drug trafficking.
Alex Hernandez (27), known as Lex, was found to be in possession of 500 grams of cocaine as well as numerous items of equipment thought to be used in the selling and distribution of illegal drugs.
In addition to the haul that was seized from Hernandez's home in Lowell, the drug dealer is also facing separate drug charges, including fentanyl, in Middlesex County.  The FBI believes that Hernandez is just one of the many drug dealers currently on their radar in the area.
In a statement to the press, Scott Murray said that fentanyl distribution endangers citizen and that the US Attorney's office continues to work hard to find and prosecute anybody found to be selling fentanyl and other harmful illegal drugs.
The search of Hernandez home was the result of a federal arrest warrant.  Police also confirmed that Hernandez was observed selling approximately 110 grams of fentanyl to buyers between April 2016 and June 2016.
Fentanyl is a potent pain medication thought to be up to 100 times more powerful than heroin. Fentanyl is one of the drugs thought to have caused the death of musician and songwriter, Prince, in 2016 among many others.
Hernandez's arrest was announced a day after Scott Murray's office confirmed that a staggering 45 people had been arrested for fentanyl trafficking offenses, all of whom are currently facing charges.
After his arrest, Hernandez was taken into FBI custody and moved to the US District Court in Concord where he was charged.  Last November, he pleaded guilty to three counts of distribution of fentanyl and was sentenced to over five years in prison.  Upon completing his sentence, he will be subject to supervised release where he will need to report regularly to authorities