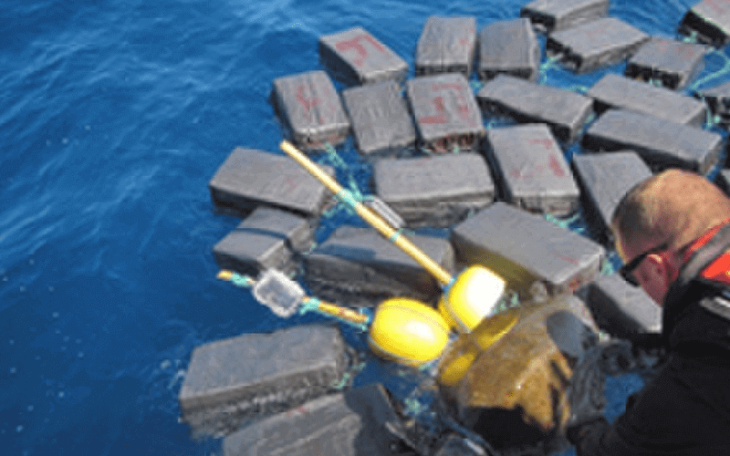 The US Coast Guard seized seven tons of cocaine and freed an entangled sea turtle near Key West, Florida.
The US Coast Guard free sea animals entangled in plastic on a regular basis. What the USCGC Thetis crew didn't expect was that this particular sea turtle would be caught in multiple bales of contraband. The bales were filled with cocaine and had been wrapped together to prevent the packages from separating in the ocean. The sea turtle had his neck caught and was unable to escape.
Coast Guard Ens. Mark Krebs led his team to the floating contraband, but then noticed the sea turtle who had been entangled. The crew worked to remove the lines which were holding the sea turtle, allowing him to swim away.
It is believed that the cocaine belonged to local smugglers who move drugs through the Caribbean and the United States. The smugglers are thought to have dumped the drugs once they learned that the Coast Guard was patrolling close by.
This mission was part of a greater patrol called Operation Martillo which includes the Thetis crew, the Joint Interagency Task Force South, HITRON, PACTACLET, and several other Coast Guard assets.
The crew is targeting criminal organizations across 18 different countries and regularly patrols the Key West area. When all of the contraband was uncovered, the team had found 6,755 kilograms of cocaine and 14 pounds of marijuana. The total value of all of the illicit narcotics eliminated by the combined efforts of the Coast Guard assets sits at about $135 million.
The drugs post a threat to national security and stability within the region. Typically, cocaine is grown in countries like Colombia, Venezuela, and the Dominican Republic. From there, the drugs are then smuggled into the United States with the help of smugglers and vehicles like go-fast boats.
The Coast Guard has increased patrols in the region recently to prevent these types of drugs from making it into the US borders. In 2016, the Coast Guard seized a record 416,000 pounds of cocaine. Cocaine is one of the most trafficked drugs in the world because it is addictive and expensive, making it highly profitable for drug traffickers.
While marijuana is also trafficked, it is significantly cheaper to buy than cocaine. Marijuana is even being legalized in various forms throughout the United States, cutting deeply into the profits of drug traffickers who sell to underground markets. However, cocaine remains an illicit drug, and no US states have any plans to legalize it in their markets. This change means that cocaine trafficking will likely remain profitable for drug smugglers.