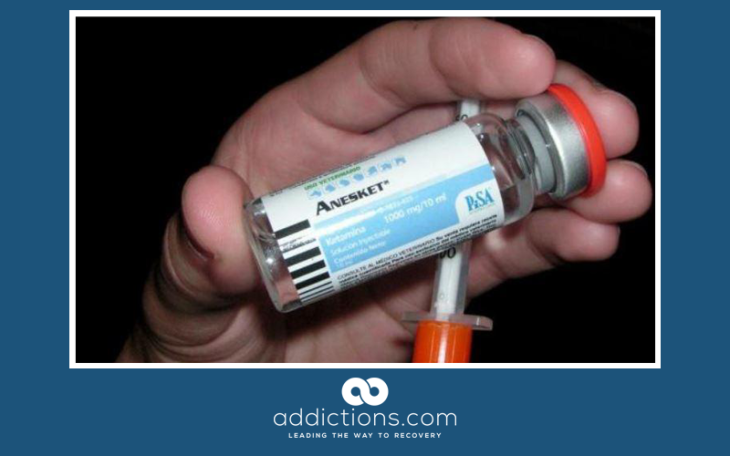 Ketamine is the latest drug found to have surprising health benefits, according to a new report by Yale School of Medicine. In a trial of 68 suicide risk adults, a report by Janssen Research and Development in conjunction with Yale Medical School has suggested that the drug ketamine may be useful for treating depression.
The first of its kind, the trial which was conducted on an inpatient basis, looked at the effect of ketamine on those suffering from severe depression with suicidal tendencies.  During the trial, 34 of the patients were treated with antidepressants and ketamine in the form of a nasal spray. The other 34 respondents were treated with anti-depressants and a placebo.
In what the authors describe as clear results, those treated with ketamine showed significant improvement at every stage of the treatment, although, results from the report leveled out at around 25 days.
Ketamine (often sold as Ketalar) is a powerful medication used to begin and sustain anesthesia.  As well as pain management and sedation, the drug causes temporary paralysis and a trance-like state.  Often injected for use as a party drug, ketamine is a potent substance, and side effects of misuse can include hallucinations, confusion, panic attacks and bladder problems.
Following the trial, the authors concluded that ketamine could be used effectively as a short-term treatment for patients at imminent risk of suicide.  It is also thought that ketamine could be used at the beginning of treatment for depression as a 'bridge' until a patient's antidepressants kick in (which can take four to six weeks).
Following the publication of the results, the UK's Royal College of Psychiatrists called the study 'significant' and confirmed that Great Britain is also studying ketamine as a possible treatment for depression.  The college also ventured an opinion that the results are particularly significant as the nasal spray is being developed by a drug company which means that it could, potentially, become a medication which will be available on the National Health Service (NHS).
A previous trial, run in Oxford, England, by Dr. Rupert McShane, showed similar results and, the doctor confirmed that ketamine was seen to work on patients who previously seemed 'beyond hope.'
Although the reports following the study are largely positive, like with any drug, there is the potential for misuse. Consequently, doctors, as well as the study's authors, have confirmed that further testing is needed to fully understand the possible benefits of the drug.