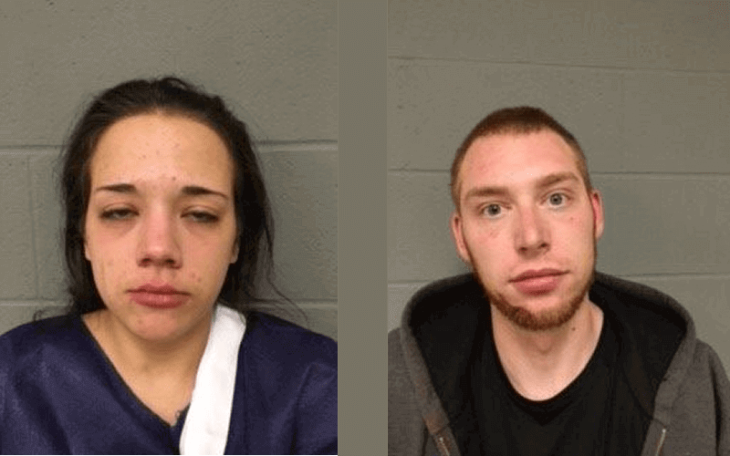 A high-speed chase across two states left Jacob McAllister and Chelsea Ovaitte in jail on drug trafficking charges.
The Brattleboro Police spotted the vehicle on Route 5, but they were unwilling to stop. On Tuesday, the police executed a search warrant issued for the car McAllister was driving and searched the vehicle.
Vermont State Police said that their troopers found 257 bags of heroin and cash inside the suspects' vehicle, as well as stolen property. The two took off after troopers attempted to stop their vehicle on Route 5 near Santa's Land in Putney on December 21. Both of them were wanted in connection with an ongoing criminal investigation.
Police indicated that they pursued the vehicle for 15 minutes before the suspects fled into New Hampshire. The car was topping speeds over 130 miles per hour in a 50 mile per hour zone. Walpole, New Hampshire, police joined the pursuit, which ended after the suspects' vehicle crashed into several parked cars and a residence. The two suspects fled on foot but were later apprehended.
McAllister had a court-issued condition of release from a prior arrest that prohibited him from possessing regulated drugs without a prescription, as well as banning him from contact with Ovaitte. She had two active warrants at the time of her arrest.
McAllister was charged with heroin trafficking, violation of conditions of release, grossly negligent operation of a vehicle, excessive speed, attempting to elude and operating a vehicle while criminally suspended. Ovaitte was charged with trafficking heroin and violation of conditions of release.
Ovaitte was treated for a broken collarbone after being captured and is in jail at the Southern State Correctional Facility in Springfield. Her bond was set at $1,000. McAllister was apprehended on Thursday and was found hiding in a residence's garage in Putney. Fresh tracks in the snow led officers to the garage. He was being held in the Southern State Correctional Facility on a $10,000 bail.
Both have initial court dates set for early January. McAllister was released on a new court-ordered conditions release and was set to appear on January 16.
Earlier this month, on December 13, both McAllister and Ovaitte were arrested at their home when officers executing the warrant found a felony amount of heroin belonging to McAllister.