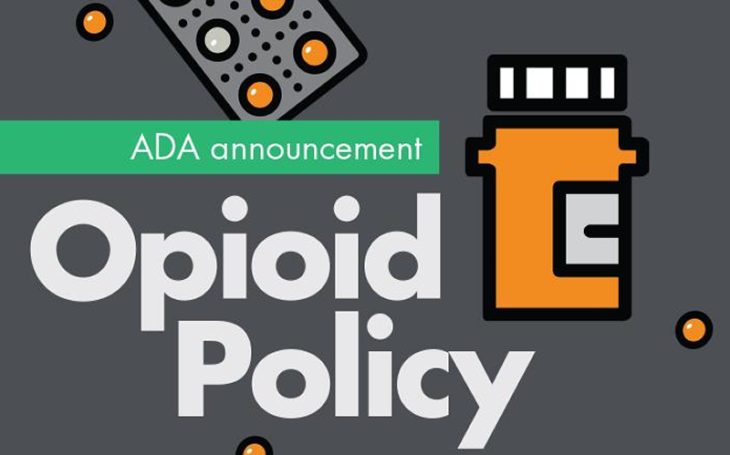 The American Dental Association (ADA) is the latest organization to join in the war against opioid abuse with a new seven-day limit on prescriptions.
Capitol Hill has welcomed the announcement by the ADA which is responsible for over 160,000 dental professionals throughout the United States. Lawmakers are currently focused on new legislation to combat the US opioid epidemic which kills thousands of US citizens and costs a reported $500 billion per year.
The move by the ADA comes as newly released figures show that 6.4 percent of all opioid prescriptions come from dental practitioners – a figure which has seen a steady rise since 2012.
The opioid epidemic – so called due to its sharp incline within a short amount of time – kills around 42,000 people every year and, has continued to increase annually by around 28 percent from 2015.  The news from the ADA comes amid revelations that opioid prescriptions in the dental industry had continued to rise despite a decline in other areas of the medical industry.
Despite the fact that the reduction of opioid use can only be a good thing, not everybody is thrilled with the ADA's decision, with many doctors insisting that opioid prescriptions should be at a practitioner's discretion and examined on a case by case basis.  Although some doctors state the American Medical Association has never supported or imposed limits on opioid prescription, the Centers for Disease Control and Prevention (CDC) advises that, for acute pain, up to three days is usually enough and that over seven days would be necessary only in rare, extreme cases.
Dr. Andrew Kolodny, Co-Director of the Opioid Policy Research at Brandeis University, has suggested that reducing daily dosages rather than duration would be more effective but has, acknowledging the current over-prescription crisis, nonetheless, praised the ADA's decision.
In addition to its new seven-day prescription policy, the ADA has also announced its commitment to mandatory and continuing education for new and current dentists with respect to the prescription of opioids and other controlled drugs. Joseph Crowley, President of the ADA, has said that the new policy is proof of the ADA's commitment to fighting the USA's war on drugs and will introduce new initiatives such as the use of databases to monitor prescriptions and identify possible or potential abuse.  In a statement, Crowley also assured the American public that the new policy would not mean patients are suffering in silence but will introduce new, safer ways of managing dental pain.
As President Donald Trump rolls out new initiatives in the war against drugs, including much tougher sentences for offenders, opioid manufacturers and distributors are starting to feel the pressure as corporations are hit with lawsuits from some States including Arkansas and New York City.