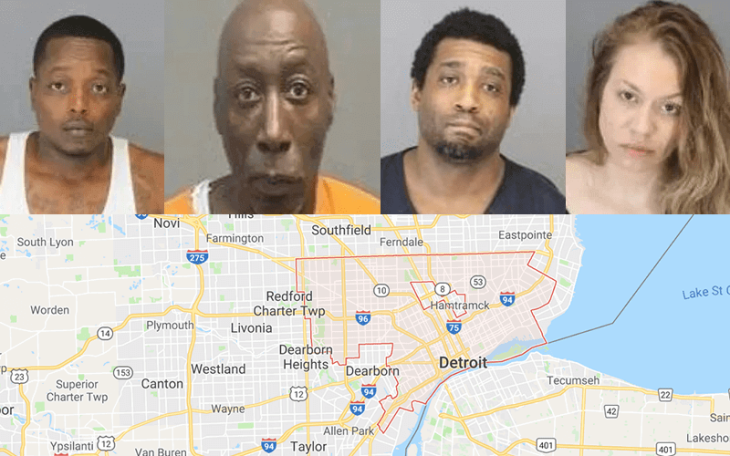 Today, four individuals that were charged with running a drug, and human trafficking ring were sentenced to up to 20 years in prison. The ring was based out of three locations in the Detroit area—Madison Heights, Warren, and Southfield.
The defendants, Melvin Niblett, Jasmin McGinnis, and Corey Cooper, were sentenced to 20 years in prison. The last defendant, Maurice Rushton, was given a ten-year sentence. Niblett pleaded guilty to one count of conspiracy to deliver 50 to 449 grams of cocaine and heroin and three counts of human trafficking-forced labor. The other defendants All of the defendants had to pay court fees and were prohibited from contacting their victims or their co-defendants. Officials say that the four were running an operation in which the sale of drugs was conducted through the sale of illicit sexual services.
Bill Schuette, Michigan's Attorney General, commented on the case. "Opioid addiction is an ever-growing problem, and many traffickers use it as a way to force their victims to remain captive," said Schuette. "Today's sentencing should serve as a warning to traffickers who get their victims hooked on drugs as a way to prey on them. We know the game being played, and I will take these dangerous individuals off the street. I would like to thank the law enforcement officers from Oakland and Macomb Counties, as well as our federal partners at the FBI for their hard work on this case."
The opioid crisis has intensified in recent years, and it has hit the Midwest especially hard. States like Michigan, Ohio, Pennslyvania, and West Virginia have had increasing rates of drug overdoses related to opioids. State Governors have made it a priority to curb the number of opioid-related deaths, and that means targeting drug dealers who are distributing opioids. The President also recently released a plan to fight the opioid crisis.
The case was opened in September of 2016 when the FBI's Oakland County Gang and Violent Crimes Task Force received a tip. The information led officials to believe that one of the defendants was running a drug and prostitution ring in Madison Heights. Niblett and Cooper were eventually investigated and caught selling drugs in Warren. The two were charged in a separate case, that officials deemed related to the drug and prostitution ring. Police say that there were dozens more involved in running the operation, but Niblett was the head of the ring. Niblett and his three co-defendants were ultimately charged with 24 felonies.
David P. Gelios, the FBI special agent in charge, also released a statement on the case. "Victims of sexual exploitation and drug addiction in Macomb and Oakland counties are safer today following the investigative work that resulted in the successful dismantlement of these defendants' illicit criminal enterprise," he said. "This sort of predatory behavior simply cannot be tolerated in our communities. While a notable achievement, residents are urged to remain alert to indicators of human trafficking and to call the FBI or state or local law enforcement when suspicious or illegal activity is observed."