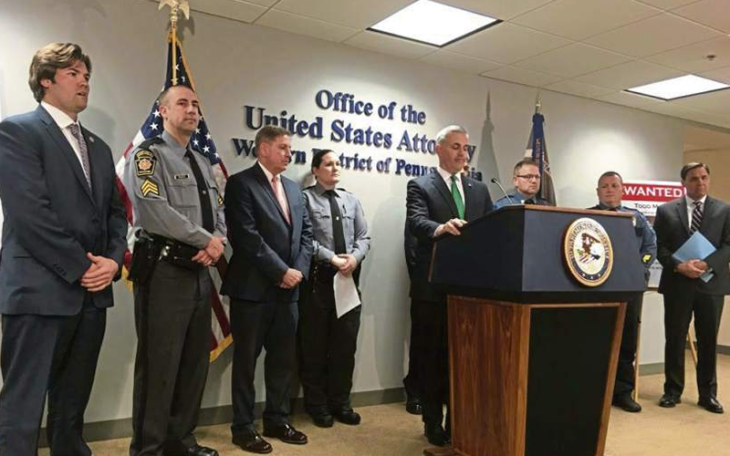 After two years of police work, U.S. authorities indicted 39 people as they broke up a cocaine smuggling and sales ring in Western Pennsylvania near Pittsburgh.
Scott Brady, a U.S. Attorney, involved in the operation, called it one of the biggest drug operations in that area of the state, which includes Pittsburgh and the Monongahela River Valley.
One person indicted by the grand jury this week – Jamie Lightfoot Sr. – has been imprisoned for about ten years but continued supervising the smuggling and sales operations from a federal corrections facility in Loretto, Pa. He'd already been convicted of federal drug offenses but kept in contact with his sons, who ran the day-to-day operations of the coke-smuggling ring.
Jamie Lightfoot Jr. and his older brother Deaubre handled shipping of the drugs, which were carried around in a big van or recreational vehicle, authorities said. Another known drug smuggler, Don Juan Mendoza, was indicted – he'd moved to the Pittsburgh area from Georgia, according to reports. Brady described Mendoza as the supplier in the operation.
In November, police pulled over the RV and searched it, finding more than 50 kilograms of cocaine inside, which the occupants – Troy Rowe, Pedro Blanco, and Brian Powell – had driven from Los Angeles to Verona, in Allegheny County, home of Jamie Lightfoot. Police discovered one kilogram of heroin as well as 50 kilos of marijuana and several guns, including an AK-47 rifle, inside the vehicle.
The traffickers and dealers had connections to drug cartels in Mexico, Brady said.
Subsequent searches at the houses and in the vehicles of suspects in the case netted a million dollars in cash, nearly a dozen more guns, and more drugs.
Brady, U.S. Attorney for the Western District of Pennsylvania, said that although heroin, fentanyl, and other opioid drugs have seized recent headlines, this bust, named Operation Heavy Hand, shows that cocaine is still a common drug in Pennsylvania.
A widespread practice is to combine fentanyl, a synthetic opioid up to a hundred times more potent than heroin, with another drug like cocaine, Brady explained. He said overdoses involving fentanyl mixed with cocaine are common.
Thirty-seven of the 39 people indicted had already been arrested or were picked up April 25, Brady said. One fugitive, Todd Moses of Decatur, Ga., is still at large. Moses, Brady said, was the middleman who put the supplier Mendoza in touch with Jamie Lightfoot Jr.
Brady detailed the indictments and the arrests at a news conference in Pittsburgh. Charges handed down by the grand jury include interstate drug smuggling as well as money laundering and gun crimes. Several people charged, including all three Lightfoot men, were already in custody. The two brothers had been arrested in late 2017.