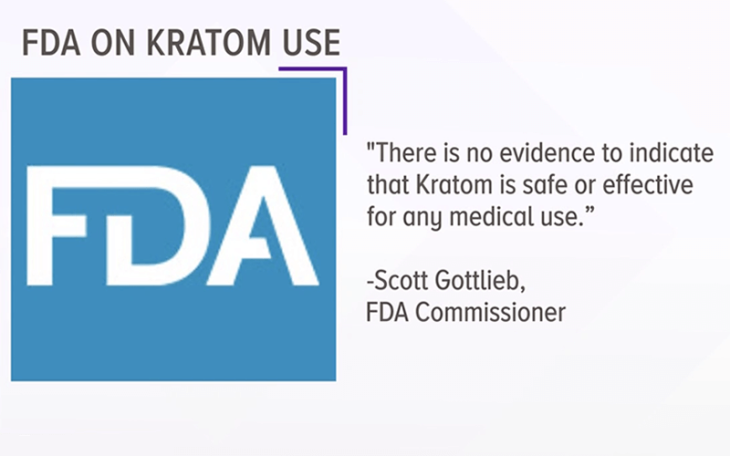 The Food and Drug Administration warned yesterday that the popular herbal medication Kratom contains dangerous opioid compounds.
Although the Silver Spring, the Md.-based regulatory agency admitted that there's still a great deal that they don't understand about Kratom and how it works, nevertheless it said results of tests and computer studies caused FDA concern.
Kratom, an extract of the tropical plant Mitragyna speciosa, which grows in Asia, has a long history of use as either a substitute for opium or treatment for withdrawal from opium or related opioids. The FDA had already forbidden Kratom's use as a dietary supplement.
Regulators said in this latest announcement that new computer models of how Kratom works in the human body showed it has strong opioid properties. The FDA also said it had more data on deaths from the use of Kratom.
FDA officials said they could find no evidence that Kratom was helpful when used for people experiencing opioid withdrawal symptoms. Although the FDA said it understands the dire need for treatments to help reduce opioid addiction, it said it had no proof of any kind that Kratom could meet its requirements for approval as a human treatment and comes with its own withdrawal symptoms.
To arrive at this conclusion, the FDA used a sophisticated computer modeling system called PHASE, for Public Health Assessment via Structural Evaluation. Regulators use this model to quickly analyze and better understand how new drugs, particularly "designer street drugs," behave in human cells.
PHASE uses complex three-dimensional models of how molecules interact in the body and in what ways they can affect the human brain.
After studying the top 25 chemical compounds found in Kratom, regulators said they all were similar, on a molecular level, with pain-killing drugs like morphine and other opioids, all of which are restricted drugs. Those compounds were likely to connect to the same receptors in human cells that opioid drugs to, thus giving a similar high and craving.
PHASE models also showed that Kratom compounds could trigger similar health problems – particularly respiratory depression or hypoventilation, associated with the mu-opioid receptor. Hypoventilation is a top cause of death from opioid abuse.
FDA officials said they knew of 44 deaths due to use of Kratom, up from 36 such deaths as of November. One person in the new group of deaths didn't use any opioids other than Kratom, the FDA said.
Combining Kratom with other opioid drugs, even prescription pain medications, could also create unforeseen complications and unknown risks.
Reflecting on public criticism that Kratom is "just a plant," the FDA noted that heroin, a deadly drug, is also "just a plant."