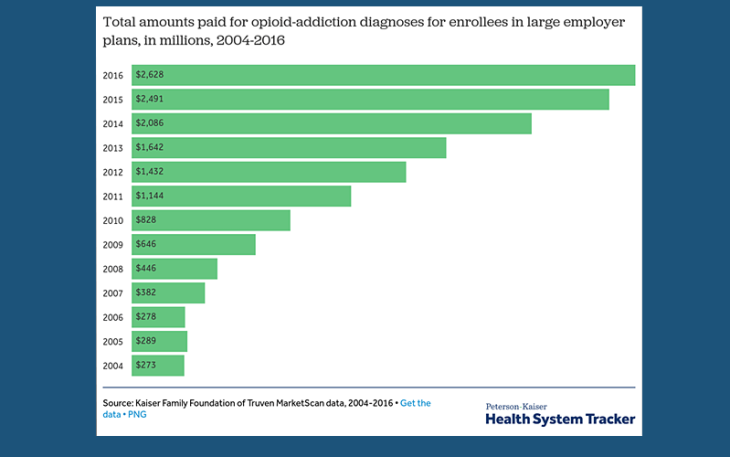 A new report has revealed that opioid addiction comes at the cost of $2.6 billion per year for American insurance industry.
The report by Kaiser Family Foundation shows that many employers within the USA are being forced to limit insurance coverage relating to opioid use and addiction due to skyrocketing costs.
The study uncovered that the $2.6 billion figure from 2016 is a staggering increase from 2004's total of $273 million.  The results are broken down as just over 50 percent going to the treatment of employee's children, one third for the employees themselves and the balance to the employee's spouses.
Of the $2.6 billion, $335 million was covered by patients and a staggering $2.3 billion paid for by insurance.
These new figures arrive on the back of President Donald Trump announcing his plans, along with First Lady, Melania Trump, for a three-pronged attack in the war against opioids including further education, improved treatment and tougher penalties for persistent, high volume traffickers, including the death penalty.
The President is also encouraging the practice of passing the cost of opioid onto pharma companies responsible rather than the taxpayer and, New York City and Arkansas already have plans to sue major pharmaceutical corporations.
President Trump's new initiative will, no doubt, be welcomed by employers who are being crippled by the increasing costs and who, in many cases, are forced to pass on these costs.  Steve Wojcik of the National Business Group has said that, for every increase of $5, many companies are swallowing $4 but, from necessity, passing the extra dollar onto workers.
During 2016, an average of $4,700 was spent on each opioid outpatient treatment, of which the employee paid just $670.  Inpatient care in a hospital or facility cost about $16,100 per patient which only $1,600 is covered by the employee.
For many employers, as they await figures from 2017, the hope is that initiatives such as the plans by the President will be in time to reverse what is, for many companies, an insurmountable price.