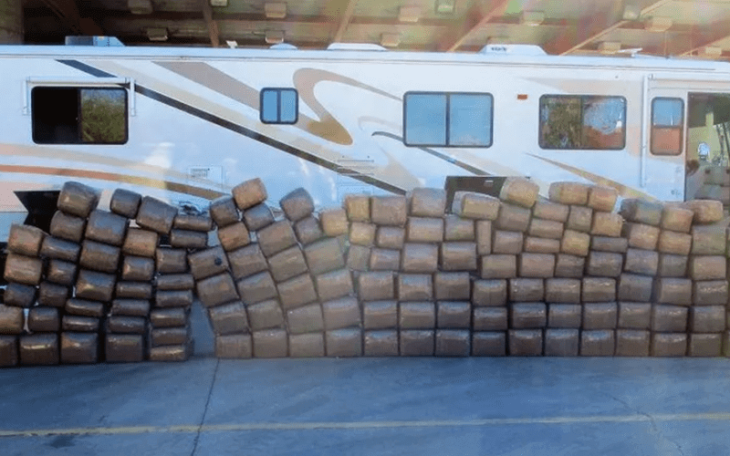 Arizona border patrol agents and sheriff's deputies arrested a Phoenix resident in southwest Tucson. The drugs confiscated from a 55-year-old man's motorhome amounted to nearly 2,248 pounds of marijuana and were worth an estimated street value of $1,244,000, according to a news release by the U.S. Customs and Border Protection.
On Saturday, December 30, officers sent a man attempting to drive his motorhome across the border into Arizona was sent for a secondary inspection after his vehicle received an alert from a K-9. His motorhome was then searched as was the procedure, where the officers discovered 120 bundles of marijuana hidden in the storage compartments, walls, and floors of the vehicle. There was no indication that the man was asked before the vehicle was searched or if a warrant was received. The alert of the K-9 provided the officers with probable cause.
This is the second largest marijuana seizure in Port of Lukeville history. The man, whose name was not released, was turned over to U.S. Immigration and Customs Enforcement's Homeland Security Investigations, while Customs and Border Protection seized the drugs and the RV.
This was not the only drug bust at the border. On New Year's Eve, the border patrol agents and sheriff's deputies arrested three men, a U.S. national and two Mexicans, after a chase that included the suspects throwing marijuana bundles from their truck west of Tucson. Agents patrolling near Arizona 85 attempted to pull the truck over, but it sped away and attempted to flee into the desert.
Pima County sheriff's deputies joined the pursuit. The men's names were not released, nor the details of all their charges. The marijuana confiscated weighed about 200 pounds and was valued at approximately $100,000 on the street. All the marijuana that was thrown from the truck was recovered, along with two bundles still inside the vehicle. No details about how the vehicle was eventually stopped were released.
Two of the men face illegal immigration violations. All three men were arrested on charges of drug smuggling. There were no details released about whether the U.S. citizen had a bond set or if he has been released. No information was made available about their legal representation or if an attorney had been assigned to the men.