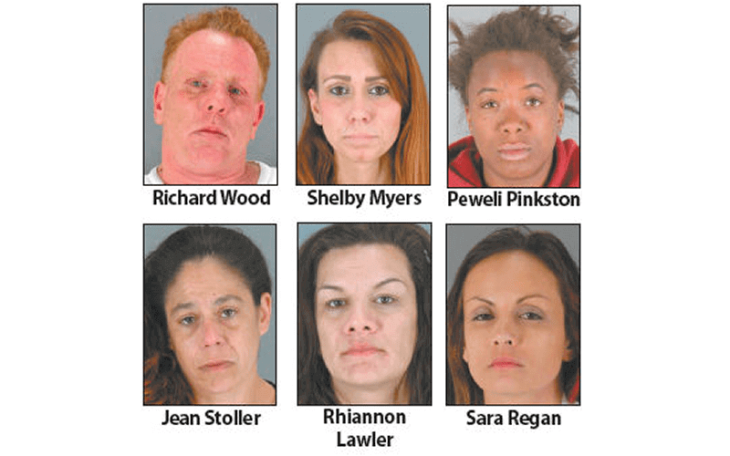 Ten people from San Mateo County's Maple Street Correctional Center are accused of being involved in a scheme to distribute methamphetamine inside the prison, according to the sheriff's deputies. Five female inmates were held on suspicion of attempting to bring drugs into a correctional facility, attempted possession of a controlled substance and criminal conspiracy.
During the Burlingame warrant search, Richard Wood was arrested on suspicion of possession and sales of a controlled substance, transporting a controlled substance, criminal conspiracy, and bringing drugs into a correctional facility. Four other suspects are being sought by deputies.
On December 22, the Narcotics Task Force members served search warrants in Burlingame, Daly City, and San Francisco, which resulted in more than 10 ounces of meth and several thousand dollars in drug money were seized.
"This case highlights the ongoing commitment of the Sheriff's Office to running safe correctional facilities. We will continue to investigate and take action on any criminal activity that endangers the safety of our staff or the safety of the inmates in our custody," said Captain Paul Kunkel of the Maple Street Correctional Center in a statement released to the public.
A month-long investigation by the San Mateo County Narcotics Task Force and the San Mateo County's Sheriff's Office determined that these individuals were sending and receiving mail laced with methamphetamine. Corrections staff intercepted some letters and cards sent to female inmates that had been dipped in liquified meth. The officers noticed that the mail had a suspicious discoloration, which tipped off the authorities.
"It was uncovered by a very alert correctional officer," said Karen Guidotti, Deputy District Attorney. "We've had other contraband, cigarettes, cell phones, etc.; but something like this where it's coming in soaked in communications, it's not common that we see this."
Investigators believe the suspects hoped the mail would go unnoticed since once meth is liquified, any paper source can absorb the material. Authorities determined that the paper was being sent from the outside to be sold. People would chew the paper to ingest the drugs.
The five female inmates were San Francisco residents Rhiannon Lawler and Sara Regan, San Mateo resident Shelby Myers, East Palo resident Peweli Pinkston, and Pacifica resident Jean Stoller. These individuals face having years tacked onto their sentences. These inmates have a preliminary hearing set for January 8. The five inmates appeared in court for arraignment on December 26 and all pleaded not guilty to the count of felony conspiracy to bring drugs into the jail. Bail was set at $25,000 for all but Regan, whose bail was set at $38,000, according to prosecutors.
The four suspects still being sought by authorities are Ephraim Manlapaz, Nancy Sanchez, Agnes Banquerifo-Taylor, and Bridgette Chavis-Damon.