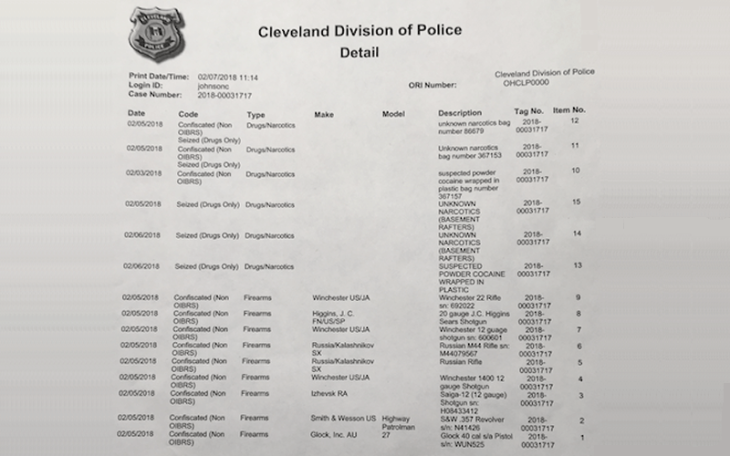 Matthew Sliter, a Cleveland police officer, was jailed on Saturday after his girlfriend's 16-year-old child called the police. The child reported that Sliter was arguing with his girlfriend and had been doing so for 30 minutes, as well as threatening her with a gun, according to the dispatch logs.
The Fourth District officer is charged with first-degree misdemeanor domestic violence and fifth-degree felony possession of a controlled substance, according to court records.
The police report on the incident remains incomplete, and there are no details listed about what preceded Sliter's arrest or why he was charged with domestic violence. The report only indicates that the department's internal affairs unit would be investigating the incident. Court records do not detail how or if the woman was injured.
During the call to the home, however, officers found suspected cocaine and other drugs, which according to the report are listed as unknown narcotics.
It appears that the original argument between Sliter and his girlfriend began over Sliter thinking that the woman had cheated on him. She called police after her child and indicated that she was afraid because he was angry and there were weapons within the home.
Once Sliter was booked, jail staff found the suspected cocaine in his wallet, according to court records.
None of the records mention the unknown narcotics found elsewhere in Sliter's home, and do not detail the domestic violence complaint aside from noting that Sliter did "knowingly cause harm or attempt to cause physical harm to the woman," according to court documents.
Sliter was ordered to surrender any firearms in his possession and on Saturday, police confiscated nine guns from his home.
During Sliter's arraignment on Monday in Cleveland Municipal Court, his bond was set at $5,000. He has since posted bond and been released until his court date, which was not released. Details about whether or not Sliter had retained an attorney or if one had been assigned to him were not available.
Sliter has been relieved of duty and according to Cleveland police Sgt. Jennifer Ciaccia, he will remain suspended without pay until the conclusion of his criminal case. She said that the Integrity Control Section of the Internal Affairs Unit is investigating. A reporter asked to review the body camera footage of the incident and the arrest, as well as Sliter's personnel file. There is no indication that this information was made available. Sliter's mug shot was not released to the public.