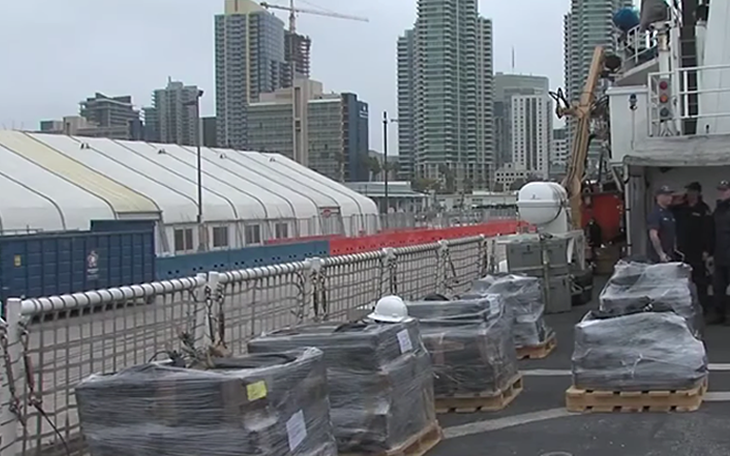 On Tuesday morning, the Coast Guard Cutter Active unloaded more than 5,000 pounds of cocaine, with a street value of $78 million on Tuesday morning in San Diego. On May 18 and 19, the Coast Guard seized these drugs off the coast of Central America and also arrested six individuals suspected of drug smuggling. These individuals will be prosecuted in the United States.
All the drugs that were seized as part of the operation will be turned over to the U.S. Drug Enforcement Administration agents, who will be in charge of destroying the drugs.
The crew of the Active had back to back counter-drug patrols, and during this period, they held three panga-style vessels, as well as a pleasure craft. The crew was commended by their commanding officers for their actions throughout their patrols.
The Active is a Medium Endurance Cutter out of Port Angeles, Washington, which is still in use past its 40-year service lifespan. The crew was praised for their efforts that keep the ship in prime condition, as well as the additional efforts that have resulted in these drugs being seized. These ships are seen as the backbone of the Coast Guard fleet. The crew on MEC ships have stopped close to a third of the ships containing drugs that were seized by the Coast Guard during their 2017 fiscal year.
No information was released about the six individual suspects or what their charges were. Details were not released about their legal representation or if they would be prosecuted in federal court in California.
Cocaine is a highly addictive substance that causes thousands of overdoses and physical complications. It is estimated that over 2.1 million Americans have tried using cocaine at least once. Classified as a Schedule 2 drug, chronic use can lead to a higher physical tolerance, forcing a user to take higher doses to achieve the same effect.
The risk of cocaine use includes an increased risk of being exposed to a blood-borne disease, infection where the drug is injected, and overdose. Cocaine can also be manipulated into a hard form known as crack, which has undergone chemical changes, as well being cooked.
Signs of addiction include mood changes, weight loss, and isolation from family, friends, and other loved ones. They may also wear clothing to try to hide track marks or other signs of their drug use.