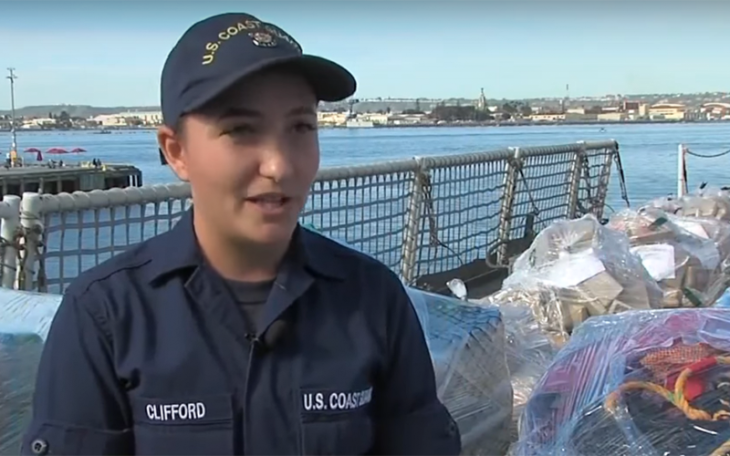 Authorities have said that hundreds of lives will be saved after the Coast Guard seized 36,000 pounds of cocaine in South and Central America in February.
Rear Adm. Todd Sokalzuk, Commander of the 11th Coast Guard District, has praised the work of the crew of San Diego's Coast Guard Cutter Bertholf after half a billion dollars worth of cocaine was seized and offloaded last month.  Rear Admiral Sokalzuk who oversees the coast of California and the offshore waters from Mexico to Chile said that Bertholf's offload symbolizes important work in the East of the Pacific which seeks to combat the criminal groups running drug trade across the nation and which causes instability and fear and ruins lives.
The United States Coast Guard, created by Congress in 1790, is a branch of the United States Armed Forces and is a maritime, military and multi-mission service in both domestic and international waters. Operating under the Department of Homeland Security, the Coast Guard serves some functions including the interception of illegal substances
After February's seizure, Rear Admiral Sokalzuk explained that it was partly due to the commitment and hard work of the audacious crew of the Bertholf, together with other vessels that the organization is seizing record-breaking amounts of the drug for the 3rd consecutive year. Working alongside the Bertholf were the Department of Homeland Security, the Department of Defense and the Justice Department as well as other Coast Guard patrol ships including:
Harriet Lane, Virginia, that made 6 interdictions seizing 15,434 pounds
Bear, Virginia, that made 3 interdictions and impounded 9,016 pounds
Diligence, North Carolina, that made 3 interdictions and caught 3,902 pounds
Venturous, Florida that made one interdiction seizing 2,877 pounds
Cocaine is a highly addictive drug which is smoked (known on the street as "chasing the dragon," snorted or injected and, after cannabis, is the most frequently used illegal drug in the world.  Derived from the leaves of the coca plant, cocaine is used recreationally as a stimulant and is thought to be the cause of death of over 4300 people every year. Celebrities whose deaths were attributed to the drug include singer, Whitney Houston, and actor, and television presenter, Corey Haim.
Authorities say that February's cocaine seizure by the Coast Guard is a great victory in the war against drugs and has snatched approximately half a billion dollars worth of the drug from dangerous drug lords.