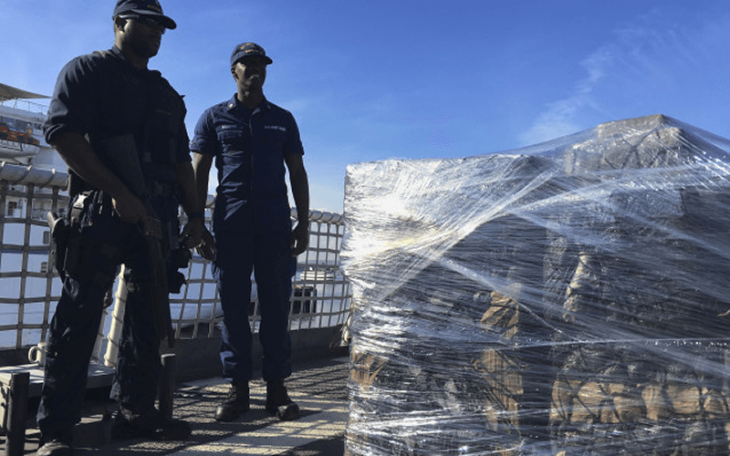 The US Coast Guard boats have unveiled 47,000 pounds of cocaine seized in the Pacific since November last year, estimated to be worth $721 million.
Officials have said over 13 boats had been interdicted in the past six months. The bulk of the seizure is said to have been intercepted off the coasts South and Central America.
Authorities displayed the drugs aboard the Coast Guard Cutter Stratton, Thursday, in San Diego before they began to unload it. The drugs were seized in 23 separate interdictions by both the US and Canadian forces who operate in the international waters of the Central and South American coasts.
At least one unmanned aerial vehicle (UAV) dubbed the "ScanEagle" was used in the operation. The UAV, whose telescope and Infrared Cameras can scan the vast sea for vessels, is often used by patrollers on long patrol flights.
Midgette said the drones had heavily complimented their efforts, "When you are trying to find one of these pangas or low-profile vessels, it is hard to spot them on the water. The radars don't pick them up well if they are painted correctly… They absolutely have increased our effectiveness."
Fred Midgette, the Coast Guard vice Adm., says smugglers are increasingly turning to smaller, "go fast" boats which are hard to spot to evade detection when transporting the illegal shipment.
Despite the magnitude of the seizure, Midgette believes it only represents a fraction of illegal sea shipments. The cocaine bundles were wrapped in multi-colored nylon mesh and piled high on the pallet of the deck of the Coast Guard Cutter Stratton in San Diego's B Street Pier.
Authorities said that the drugs would be in the custody of federal agents who will use it in investigation and prosecution of the drug traffickers.
While speaking at a press conference, the acting US attorney for San Diego – Adam Braverman – warned drug traffickers saying "you and your cocaine are on our radar." Braverman says they will seize traffickers' shipment and apprehend them.
The acting attorney also stated that they would form an interagency maritime strike force to fight against cartels that transport their shipment by sea. Midgette also expressed the need for a collaborative approach, saying no single party can win the war against drug trafficking. "The threat of transnational organized crime is a danger no one ship, agency, country or person can address alone."