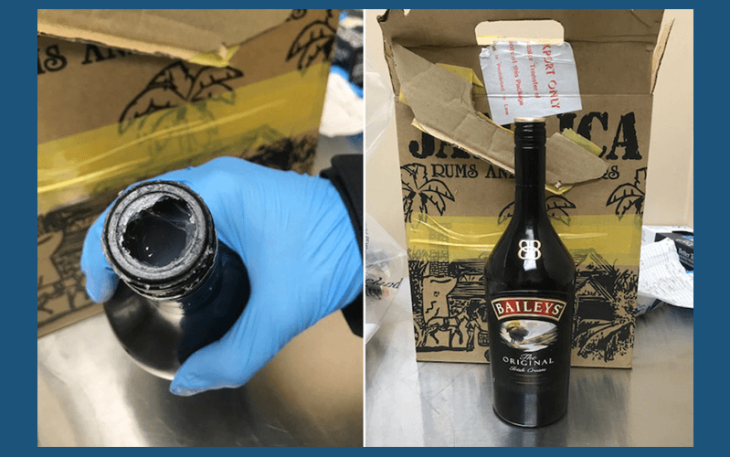 Upon opening bottles of Baileys at JFK airport, authorities found something more potent than alcohol. Customs and Border Protection (CBP) agents inspected the duty-free box of Stefisha Miller, a passenger arriving from Jamaica, and found that at least one of the Bailey's bottles was carrying baggies of cocaine. The amount of cocaine, estimated to be 6 pounds, was seized and came to approximately $110,000, according to authorities.
Miller, who is a Jamaican citizen, now faces multiple charges relating to the incident. According to the statement released by the CBP, she was passed on to Homeland Security Investigations on charges of importing an illicit substance. She will also be facing federal charges related to narcotics smuggling. The U.S. Attorney's Office, based in the U.S. Eastern District Court of New York, will be prosecuting Miller.
Miller was traveling from Kingston, Jamaica, on Sunday. Francis J. Russo, Acting Director of the CBP's New York Field Operations, noted that drug smuggling posed a serious threat and that their agents are actively working to keep these narcotics from coming into the country.
Recent studies indicate that cocaine has been used by at least 2.1 million Americans at least once. The risk of addiction is high for those who abuse the drug. It is classified as a Schedule 2 drug by the U.S. Drug Enforcement Agency (DEA). Part of what contributes to the addiction is the fact that the effects last for a short period, making the user want more to achieve another high. As the body grows accustomed to the drug, more is needed to achieve and maintain a high.
No information was released regarding whether Miller had hired an attorney or if one had been assigned to her by the courts. No details were released regarding whether a bail hearing had been set or where Miller was being held.