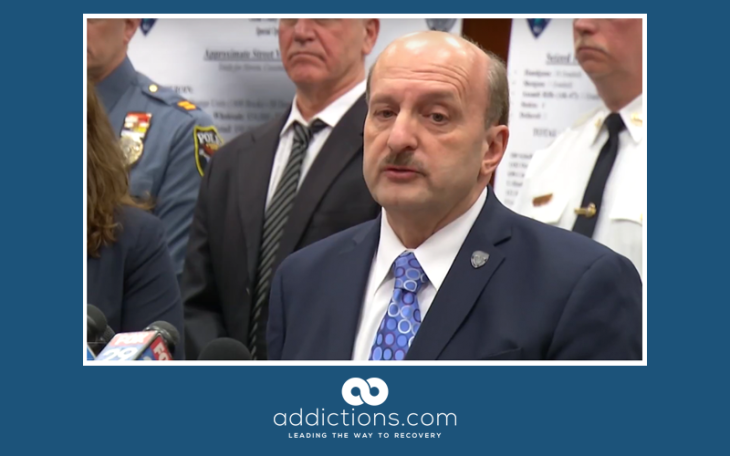 A routine drug bust at the Jersey shore has led authorities to narcotics rings said to be operating in two states and somewhere overseas.
31 people throughout New Jersey, New York, in the Bronx and at least one foreign country have been charged with being linked to rings that dealt opioids and other narcotics, Ocean County authorities say.
According to Joseph Coronato- Prosecutor, Ocean County, authorities broke up nine facilities for drug production, seizing 90,000 doses of heroin, more than 19 lbs. of cocaine, hundreds of opioid pills, 20 firearms and $848,481.
Flanked by law enforcers from all corners of the state, Joseph announced the operation's spoils in a packed news conference at the administration building March 9.  Among the attendees were Valarie Nickerson- the State's DEA special agent and Jennifer Davenport, the First Assistant Attorney general.
The operation began back in April 2017 with street-level drug transaction in Lakewood, New Jersey. Officers conducted surveillance in the area and started arresting illicit drug dealers. They then followed distribution chains which led them to illegal drugs activities in  Hudson, Essex, Middlesex, Ocean, Monmouth, Union, Passaic and Union counties; New York. The multi-agency operation included; the prosecutor's special operations group, U.S. Drug Enforcement Administration Ocean/Monmouth High-Intensity Drug Trafficking Area Task Force, and another 30 enforcement agencies drawn from the state, and the county.
Coronato says New Jersey has designated Ocean County a 'ground zero,' in the state's opioid epidemic.
He thanked Senator Cory Booker, and Reps. Chris Smith and Tom MacArthur for playing a great role in getting Ocean County the HITDTA designation, which permitted the operation. "Our acceptance into the U.S. Drug Enforcement High-Intensity Drug Trafficking Area Northern Group last year has increased tenfold our scope and ability to conduct investigations limiting the import of illegal narcotics into Ocean County and beyond."
The prosecutor said the operation was possibly the largest in the last three decades. He praised the collaboration between agencies on all levels saying it was "another example" of how law enforcement agencies can bring a greater impact on the state.
Jennifer Davenport also praised the collaboration of different agencies to end drug trafficking. "On behalf of Attorney General [Gubir] Grewal, I commend the state, local and federal law enforcement officers involved in this investigation, not just for their hard work, commitment and excellent results here, but for their interagency cooperation," Jenifer said.