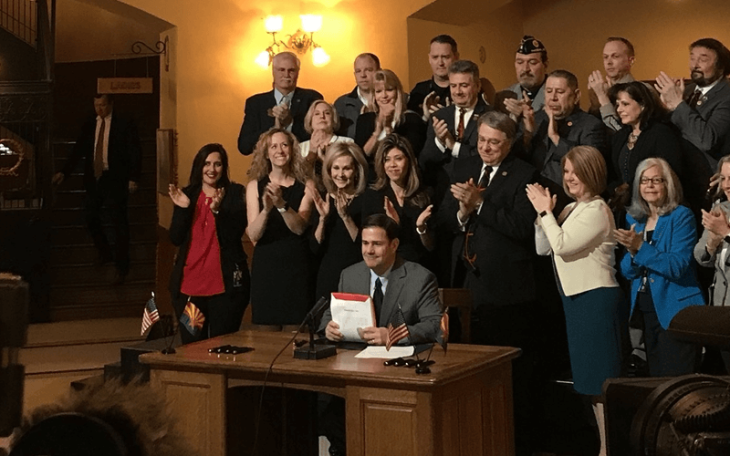 Arizona Governor Doug Dicey has signed into law new legislation which is intended to clamp down on the raging opioid abuse and reduce overdose deaths. Dicey said it was important to combat an epidemic that has affected the whole nation.
This comes a few hours after the Legislature unanimously sanctioned the proposal, ending a four-day special session that the Republican governor had convened to give the matter a high priority and allow for it to pass quickly.
The legislation limits opioids to an initial five day supply and a maximum 30 day prescription (for patients who use highly addictive painkillers), boosts pain clinic regulation and adds $10 million to help uninsured and underinsured individuals access addiction treatment. Also, it requires that doctors start using electronic prescriptions starting next year, to reduce cases of forgeries, among numerous other provisions.
The official approval happened even after some dissenting lawmakers expressed their concerns about some parts of the proposal. They were concerned with the implication that the bill would have on patients who require strong painkillers, the costs of doctors adopting electronic prescriptions, and the 'good Samaritan' clause which gives immunity to anyone calling in a potential opioid overdose.
In defense of the bill, Ducey said he believes it was solid but open to alterations if any issues arose about it. Ducey noted that even though the product is addictive, it should still be accessible for people in cancer recovery, or looking for long-term pain relief.
Democrats welcomed the addition of $10 million and said the bi-partisan measure should be emulated in the forthcoming budget discussions. Moreover, they said that combating opioids was only their first step.
This bill is the most recent measure in a nationwide multi-pronged effort to combat a crisis that took the lives of more than 42,000 people in 2016, as per figures from U.S. Centers for Disease Control and Prevention. In a burst of lawsuits, drug manufacturers have been accused by the US government of supplying addictive pain relievers into the market by employing deceptive marketing strategies and failing report suspicious orders.
As a result, a multi-state inquiry was launched by attorney generals to determine whether drug manufacturers and distributors of opioids have been involved in any unlawful practices. The latest to join the battle was New York, which recently sued eight manufacturers of prescription opioids for fueling an epidemic that was fast affecting the city.
Gov. Ducey has made the fight of opioid abuse and overdoses a major focus of his administration. In June, he declared opioids abuse a public health emergency, asking the state officials to study methods of addressing the menace.