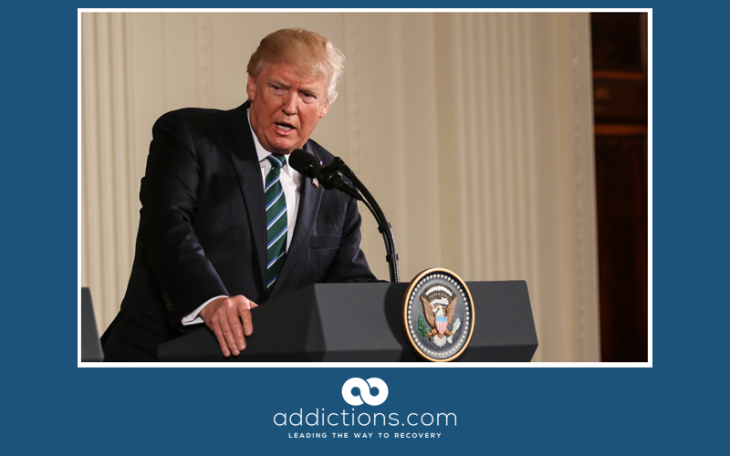 Congress recently announced the appropriation of $6 billion to tackle the current opioid epidemic in the USA, but will it be enough?
President Donald Trump is set to roll out his new opioid strategy in New Hampshire which will include, in some cases, the death penalty for high-intensity drug traffickers.
The plan will be a three-pronged strategy focusing on law enforcement, education, and funding – including helping those affected by the epidemic to find employment during their rehabilitation.  Director of the White House Domestic Policy Council, Andrew Bremberg, said that the new strategy would include much tougher penalties for drug dealers and traffickers including, in some cases, the death penalty.
However, Bremberg's sentiments have angered some treatment advocates, who have said that the United States is trying to punish its way out of the opioid epidemic is a short-sighted and ineffective manner.
A White House official stressed that the death penalty would be considered only in extreme cases of doggedness, adding that the 'ultimate penalty' would be reserved for dealers trafficking large volumes of opioids – especially fentanyl – into the country. He clarified that low-level possession offenses would not attract the dreaded verdict.
Officials have also been keen to stress that this highly emotive issue is still being reviewed and may be subject to change.
President Trump defended the proposal by quoting statistics which claim that a drug dealer causes the deaths of up to 5000 people during their life – and currently may not even receive a life term if convicted.
The education segment of the strategy will be the first policy which President Trump and First Lady, Melania Trump, have worked on together and will feature two different approaches.  The first campaign, led by the First Lady, will focus on protecting and educating children. The second campaign, by President Trump, will be tougher and will aim to shock people into saying no to drugs.
The funding part of Trump's strategy is where things begin to unravel, with many convinced that the funding acquired will fall far short of its target – some experts have claimed that the crisis will almost certainly require an additional commitment of tens of billions of dollars to be effective.  The funding is said to be aimed at achieving more treatment for addicts and longer terms, increased access to opioid antidote –Naloxone, more walk-in centers for addicts and employment programs for those in recovery.
The plan will also ask Congress to repeal the rule which blocks Medicaid payments to some treatment facilities.
In 2016 alone, there were over 64,000 drug overdose deaths in the U.S. a number that is four times the amount who overdosed back in 1999. America is in the midst of an opioid crisis.