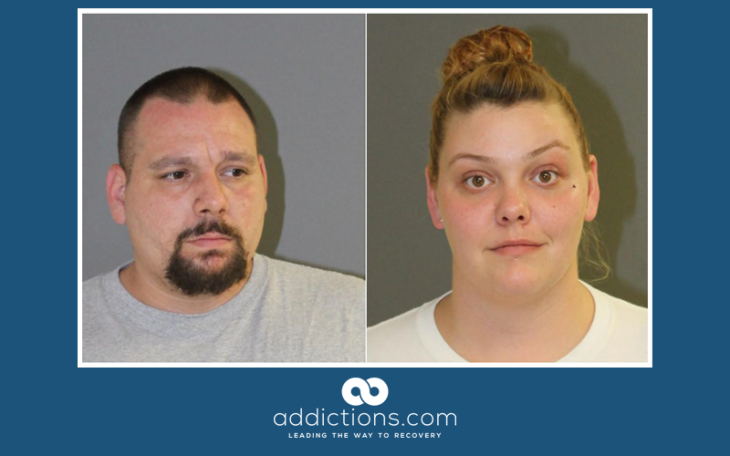 Connecticut State Police arrested a man and woman March 2 after finding 1,164 individual bags of heroin or fentanyl in their home in Sprague.
On March 2, police used a warrant to search the home at 105 West Main St. and found, besides the drug bags, other pills, drugs, and $8,000 in cash.
The opioid drugs divided into bags totaled 291 grams, police said.
Richard Reiser, 30, and Kayla Murray, 27, were arrested at the time. They've been charged not only with possession of narcotics but also with an additional charge related to drugs sales close to schools. Authorities held both on a $25,000 bond.
Reiser and Murray also had 60 pills of hydrocodone, an opioid made from codeine and typically used to suppress and treat coughs. Police also found 25 buprenorphine/naloxone strips – both are used to treat opioid withdrawal symptoms and are often combined in a treatment dose.
Buprenorphine, itself an opioid similar in effect to methadone, carries its risks and side effects similar to opioids. It can cause respiratory depression or hypoventilation, particularly if taken by someone who's been drinking alcohol or using other drugs. Naloxone doesn't always work well to counteract the symptoms of buprenorphine use, and buprenorphine is capable of causing addiction and dependence just as opioid drugs do.
Some people combine buprenorphine and naloxone in an attempt to lower the risk of abuse of buprenorphine, which can be injected.
According to local news reports, both Reiser and Murray were charged with three counts of drug possession and three separate counts of possessing narcotics near a school, with the intent to sell.
Police got a warrant to search Reiser and Murray's home as part of an ongoing investigation of drug smuggling in the Constitution State.