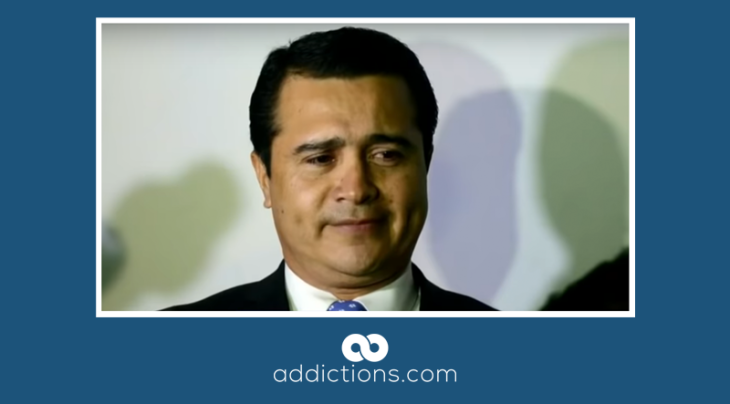 Juan Antonio Hernández Alvarado, the brother of the president of Honduras, was arrested in Miami on Friday and charged with drug smuggling and other offenses.
The United States Drug Enforcement Administration revealed the arrest of Hernández, who is known as "Tony" and who is a former member of the Honduran congress.
Tony Hernández has been charged with a variety of offenses, including conspiracy with drug smuggling organizations in Colombia and Mexico to import illegal narcotics into the United States. He's also facing charges of importing cocaine into the country directly between 2004 and 2016. DEA agents said Hernández took part in operations that brought "multi-ton loads" of the drug across U.S. borders.
DEA agents and prosecutors said Hernández oversaw and participated in operations that used aircraft, boats and even submarines to carry contraband drugs into the United States. He worked with a criminal gang known as "Los Cachiros," the DEA said.
Some of the cocaine captured by authorities over the years has even been linked to Hernández by the fact that he sometimes branded drug containers with his initials, "TH," authorities explained. Those markings helped drug agents connect Hernández to certain drug manufacturing laboratories.
Authorities also said Hernández issued powerful military weapons to Honduran National Police under his control and then used those troops to help protect criminal smuggling operations. He faces weapons charges for those activities, and he's been accused of lying to U.S. federal agents.
Three of the four charges against Hernández carry possible life sentences.
Hernández is the brother of Juan Orlando Hernández Alvarado, who took office as the 55th president of Honduras on Jan. 27, 2014. Previously, Juan Hernández was also president of the National Congress of Honduras, of which is brother was once a member.
News reports characterized the arrest of Tony Hernández, age 40, as a serious blow to his older brother, whose time in office has already been damaged by drug smuggling operations against which he has pledged strong action.
Corruption fueled by drug cash has a strong hold in Honduras, U.S. experts say, and the arrest of Tony Hernández in Miami is yet another indication of the extent of the problem.