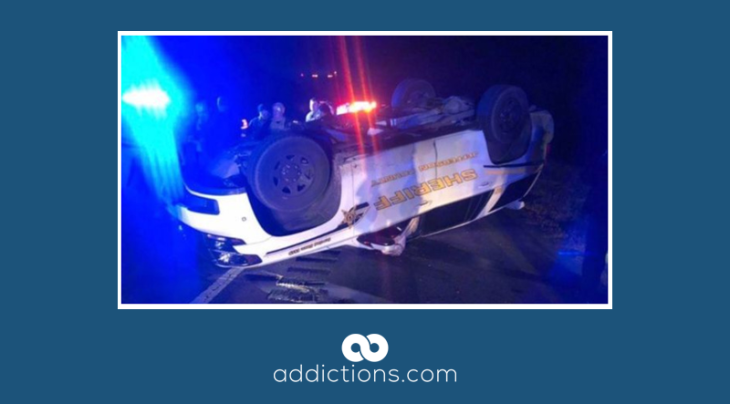 A crash on Interstate 65 in Northern Jefferson County has resulted in the injury of an Alabama Sheriff's Deputy, police have confirmed.
The incident, which happened at 5.10am close to the 271-mile marker, was caused by a drunk driver, Dejuan Dawson.  Troopers reported that 35-year-old Dawson was traveling at speed when his car left the roadway and struck a guardrail before rebounding back onto the Interstate and plowing into a semi tanker truck.  Dawson's vehicle, which came to a rest in the middle of the Interstate was then struck by a State cruiser driven by a Sheriff's Deputy who has not as yet been named and who had been traveling Northbound.  On impact, the cruiser hit the guardrail before crossing into the Southbound lanes and flipping several times, according to bystanders.
Both the Sheriff's Deputy and Dawson were transported to UAB Hospitals, although Dawson is in intensive care,  reports are that neither suffered life-threatening injuries.  No other citizens were thought to have been affected by the incident which happened in the early hours of Thursday morning.
Dawson, who is currently still hospitalized, will be formally charged on his release with driving under the influence and operating a vehicle without insurance and, could face a prison sentence if convicted.
In August, 19-year-old Makell James Gordon was killed on the same Interstate during a four-vehicle incident.  Police says that Gordon, who was not wearing a seatbelt, lost control of his vehicle which overturned and careened into the opposite lane of traffic.  The vehicle was subsequently hit by three other vehicles, and the teenager was pronounced dead at the scene.
Around 4000 people are killed in the United States every year due to drink and drug driving incidents.  Penalties for DUI differ from State to State and can range from fines and driving bans to lengthy prison sentences.