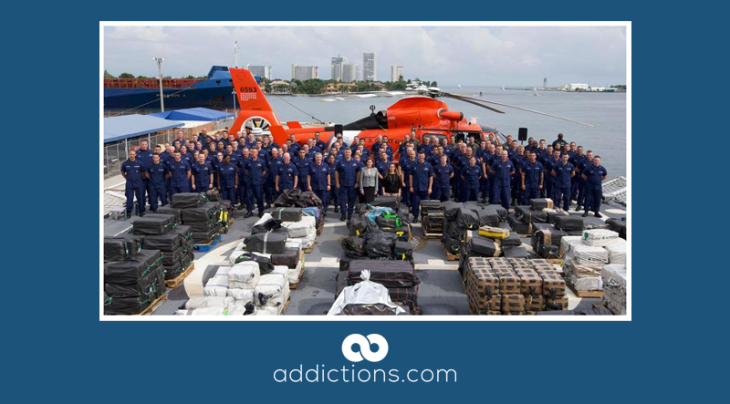 Joint Base Charleston has confirmed that cocaine with an estimated worth of $500 million was intercepted and seized by Coast Guard Cutter, James, in November.
The crew of Coast Guard Cutter, James, offloaded over 19,000 pounds of the deadly drug in Port Everglades on the 15th November after the seizure in the Eastern Pacific Ocean.
The Coast Guard has recently increased the U.S. and allied presence in the Eastern Pacific Ocean and Caribbean Basin as an integral part of its Western Hemisphere Strategy.   During its missions, the Coast Guard locates and tracks suspicious vessels in association with military and law enforcement personnel to intercept and prevent drugs being brought ashore.
The State-wide operation resulted in the arrest of 49 offenders who will face prosecution in South Florida.  Captain Jeffrey Randall of Coast Guard Cutter James says that the Coast Guard's limited resources are being drained by the amount of cocaine being smuggled into its waters – the Coast Guard has seized 226 tons of cocaine in the past year.
In addition to the haul by James, Coast Guard Cutters Bear, Stratton, Active, Dauntless, Venturess, Spencer and Campbell also seized thousands of pounds of cocaine from international waters.
Cocaine, which is commonly known as Coke, is a strong illegal stimulant used for recreational purposes.  Extremely addictive and lethal when taken in excess, Cocaine is inhaled, snorted or injected into a vein and is known for its powerful effects such as intense happiness and increased energy levels.
Over 10,000 people die in the USA every year from Cocaine abuse.
The US Coast Guard is a brand of the US armed forces and one of its seven uniformed services.  The Coast Guard enforces maritime law and operates under the US Department of Homeland Security.  The US Coast Guard intercepts thousands of pounds of Cocaine every year.