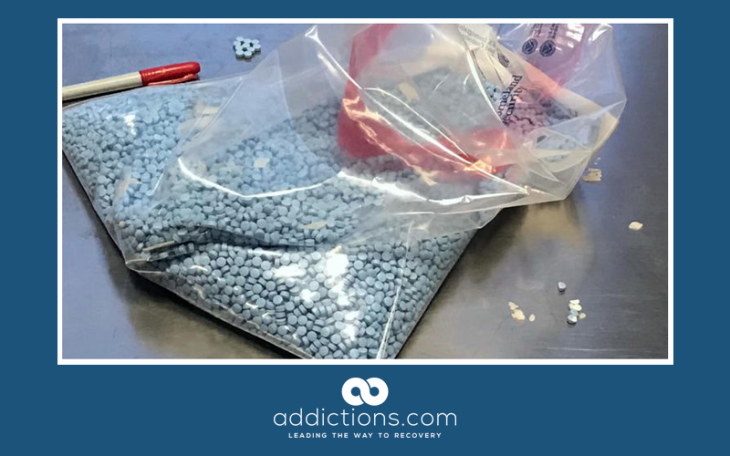 An American citizen resident in Tijuana pleaded guilty to attempting to sneak more than 20,000 fentanyl tablets into the United States.
Fernando Jesus Peraza, age 39, had been arrested on Aug. 8 at the San Ysidro border checkpoint from Tijuana into California when customs officers detected something unusual about his vehicle, an Audi TT Quattro. Inside the rear quarter passenger panel of the car officers discovered four packages filled with 20,000 pills made to resemble blue oxycodone pain tablets. Later chemical analysis determined they were actually fentanyl pills.
U.S. Attorney Adam Braverman said in August that this seizure was likely to be the biggest ever such haul made by customs officers – a national record.
A few days earlier, officers at the same San Ysidro checkpoint had briefly held the record when they found 11,500 fentanyl tablets in a car driven by a teenager.
Peraza told investigating officers he was being paid $1,000 for the smuggling operation, and that his family was threatened. When arrested, Peraza was employed by a garbage collection business in San Diego County. His arrest took place at 2:30 a.m. on Aug. 8, and he at first entered a not guilty plea when arraigned. Later he agreed to a deal with prosecutors.
He pleaded guilty to smuggling the 20,000 pills, and to other related charges.
U.S. Attorney Braverman stressed that when the dangerous, potent and possibly deadly drug fentanyl is disguised as other drugs, particularly quotidian pain medication, the potential for accidental overdoses and deaths is high. People sometimes die taking pills they think are something different.
Fentanyl, a powerful synthetic opioid manufactured in illegal drug laboratories in China or elsewhere before being smuggled into the United States, is so powerful – up to 50 times more potent than heroin, or 100 times stronger than morphine – that it can kill even in tiny amounts. It is a danger to police and other first responders who touch it inadvertently, or even to drug detection dogs that inhale some of it.
Peraza will be sentenced in February by U.S. District Judge Gonzalo Curiel. He faces from a decade in federal prison to as much as a life sentence.