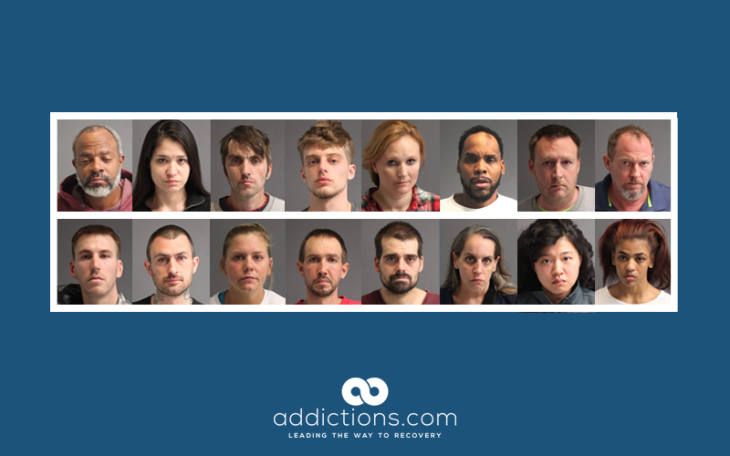 Police confiscated $800,000 in heroin, cocaine, and fentanyl and picked up about $300,000 in cash in a Maryland raid in which 20 people were also arrested.
Authorities said drug smugglers in Anne Arundel County, Md., were also trafficking a drug called xylazine; an animal tranquilizer sometimes mixed in with heroin or fentanyl. The raid brought in nearly 9 kilos or 19 pounds of xylazine alone. That drug, meant for tranquilizing big animals like cattle or bears, is not intended to be taken by human beings.
Glen Anthony Davis, one of those arrested, was allegedly the leader of the trafficking operation, police say. Authorities spent eight months looking into the smuggling operation via a task force made up of Anne Arundel's police, Annapolis police, and the Anne Arundel County Sheriff's Office.
All told, police believe there were 21 people involved in this operation.
Timothy Altomare, the Anne Arundel County police chief, said the dangerous xylazine was used to mix in with and dilute the heroin or fentanyl, allowing the dealers to divide the drugs up into more dosages and get more money on the street for selling them.
One of the many dangers of mixing such drugs is that the addicts and users don't know for sure what is in the drug they are taking, which can lead to much more serious consequences and unknown drug interactions.
Fentanyl is already up to 50 or even 100 times more potent than morphine or heroin, and it can kill in even tiny amounts. Mixing it with an unknown ingredient meant as a large animal tranquilizer creates a particularly deadly combination which Steve Shuh, an Anne Arundel County executive, described as "poison."
Altomare said his department will continue to focus on catching and stopping smugglers selling these particularly potent and deadly combinations of drugs in the area.
Others arrested included Alex Budka, Timothy Lee Ballard, Cassandra Leroux, Earl Davis, Piper Nicole Foley, James Nathan Helsel, James Howe, Sarah Jin O, Jeff Koehn, Jennifer Smith, Jimmy Joy, Michael Murphy, Patrick Mortka, Tyler Andrea-Monet Wise, and Andrea Riccio.