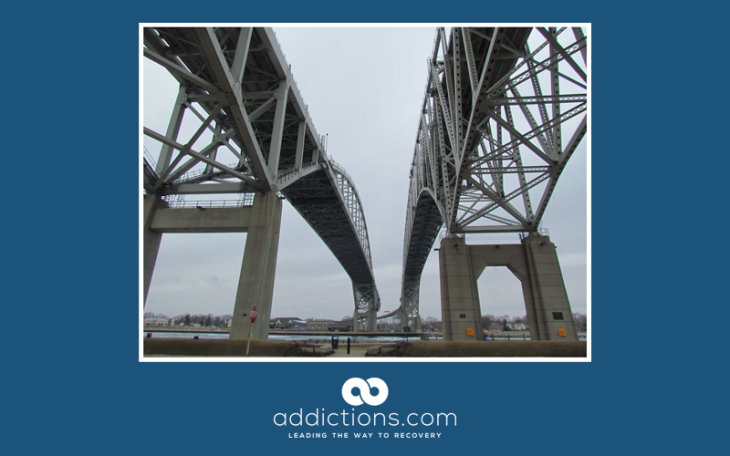 United States Customs and Border Protection officials arrested a Canadian truck driver who had 280 pounds of cocaine hidden in a fruit shipment in his vehicle.
The drugs were discovered at a crossing from Canada into the United States at Port Huron, Mich., over the Blue Water Bridge on Sunday, Oct. 21.
Customs authorities were making ordinary, routine checks of vehicles and cargo being brought in across the bridge. They stopped the commercial truck to check it. Four boxes in the back were found to hold plastic-wrapped packages of cocaine disguised inside the berries making up the truck's cargo.
Agents discovered an anomaly in the truck's cargo during an x-ray examination of its contents.
The Blue Water Bridge, with two spans over a mile long each, connecting Port Huron, a town of about 30,000 inhabitants, with the larger city of Sarnia, Ontario, which has about 100,000 people. The bridge crosses the St. Clair River. Its first, older span, was opened eighty years ago this month, in October 1938. The second, newer span, was opened in the summer of 1997.
About 13,000 vehicles cross the Blue Water Bridge every day.
Dario Grujic, the Canadian driver, was turned over to the U.S. Department of Homeland Security. His case will be investigated and prosecuted by the United States Attorney's Office for the Eastern District of Michigan. Grujic, who lives in Guelph, Ontario, northeast of Sarnia, appeared in court on Monday, Oct. 22.
A check of border records showed that Grujic had crossed the border from Canada into the United States 25 times in the last six months, using the same truck he was caught in this time. He last crossed the Blue Water Bridge into Port Huron just a week earlier, on Oct. 15, authorities said.
Earlier in the autumn, Port Huron border officers found and confiscated 1,650 pounds of marijuana.