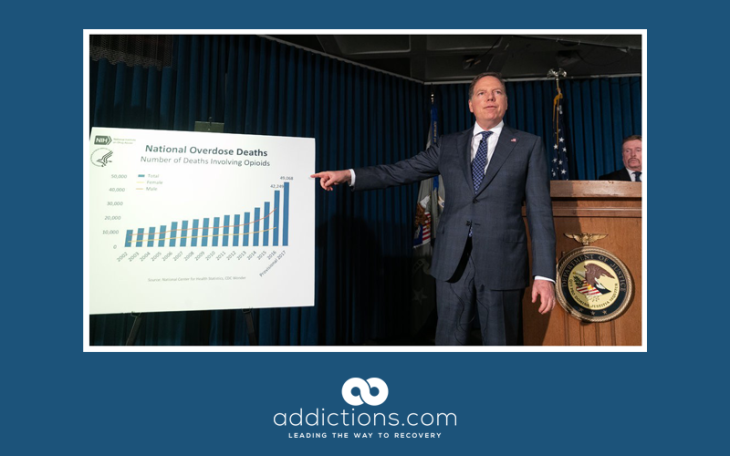 Five doctors in the New York City area face federal charges of writing illegal opioid prescriptions that put millions of pain pills on the streets and resulted in several deaths.
United States prosecutors in Manhattan said the doctors' prescriptions made 8.5 million tablets of oxycodone available for drug abuse. One doctor alone wrote prescriptions for more than half that total – 4.6 million pills.
Geoffrey Berman, the U.S. Attorney for the Southern District of New York, called the doctors "drug dealers in white coats" and characterized their motivation for writing the prescriptions "greed."
Oxycodone is an opioid pain medication typically taken orally in pill form. It has been a widely abused drug in the ongoing opioid epidemic now ravaging the United States.
Dr. Dante Cubangbang, who worked at a pain clinic in Queens, wrote prescriptions for 4.6 million oxycodone pills in just six years, prosecutors said, which earned him the title of top supplier of that drug in the state. His clinic prescribed a total of 6.2 million pills in six years. In just the last three years, Cubangbang's clinic brought in $5.7 million in fees from patients, so much money that Cubangbang had to use a cash counting machine at the end of each business day, authorities said.
Cubangbang, compared to a bank robber by one longtime Drug Enforcement Administration agent, was put on probation by the New York State Health Department's Office of Professional Medical Conduct in May 2015. The agency said he hadn't kept proper records and hadn't checked the actual medical needs of patients he prescribed the drugs to.
Earlier this year, Cubangbang was charged with five counts of breaking the requirements of his probation.
Three people from Cubangbang's pain clinic were also charged – John Gargan, a nurse; Michael Kellerman, the office manager; and Loran Piquant. All three were accused of having illegally bought pills to resell them.
Gargan, the nurse, also illegally prescribed 1.6 million pain pills, the prosecutors said.
Another doctor, Carl Anderson, prescribed close to a million oxycodone tablets in the last dozen years, handing them out not just at his office but also from his Staten Island home, authorities said.
Anderson would meet prospective patients, even some who were drug addicts and abusers, at home, even in the middle of the night, to sell them pills, accepting cash payments only for the drugs. The doctor allegedly gave pills to a street-level hustler, Arthur Grande, who was also charged this week.
Manhattan psychiatrist Anthony Pietropinto prescribed pills that led to at least one overdose fatality, prosecutors said. Over five years he prescribed 12,000 tablets to just one person.
Endocrinologist Nadem Sayegh, working out of an office in the Bronx and another in wealthy Westchester County, prescribed 50,000 tablets of oxycodone, authorities said, taking cash payments for the drugs.
Nkanga Nkanga, a doctor from Staten Island, faces charges of prescribing more than half a million pills of oxycodone, as well as other drugs like alprazolam and buprenorphine. Prosecutors said Nkanga typically spent just 10 minutes with patients, didn't examine them or even ask them if they were suffering pain.
This investigation also resulted in charges against a pharmacist, Marc Klein, who, prosecutors said, handed out about 10,000 pain pills from his business in White Plains, again taking cash payments for the drugs.