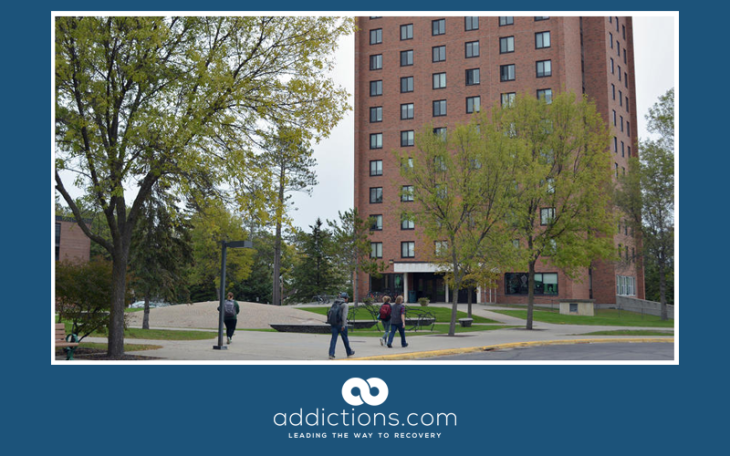 A teenager drinking illegally at a college party in Minnesota died after falling from a seventh-floor window on Sunday.
Police in Bemidji, in northern Minnesota, said Isaac Jon Morris, age 19, died in an accidental fall from a dorm window at Bemidji State University. He was from the small town of Cokato, which is about 50 miles west of Minneapolis, and wasn't a student at the school, which has an enrollment of about 6,400 people.
A statement by the local police department on Tuesday said Morris fell from the seventh floor of Tamarack Hall, a 12-floor dormitory. The investigating medical examiner's office declared that Morris died from severe trauma to his head.
Police and other emergency personnel responded to a call from the campus at about half past midnight on Sunday. They found Morris bleeding on the ground by the dorm and attempted to save him but were unsuccessful.
Subsequent questioning of witnesses by police revealed that Morris had gotten drunk at a nearby college party in the 2500 block of Calihan Ave. NE earlier that night. Seven adults were discovered to have thrown the party and to have provided alcohol to the people there, including Morris. The Bemidji Police Department didn't name the adults but said it was likely the Beltrami County Attorney's Office would consider filing charges in the case.
The grownups who hosted the party might be charged with a felony for providing alcohol to a minor resulting in death. They could also face lesser charges of providing alcohol to a minor and disorderly house charges.
President Faith Hensrud of Bemidji State University said at a Tuesday press event that the school would consider disciplinary charges against any of its students found to have been involved in the tragedy. The university's conduct officer would need to look into the situation, she said, if a code of conduct violations occurred.
Hensrud said the school's code of conduct also covers student behavior off the campus. The residents of the room Morris fell from have been moved elsewhere, she said.
Bemidji – the name comes from the Ojibwe language – has a population of about 15,000 people. It is the central hub of three different Indian reservations.