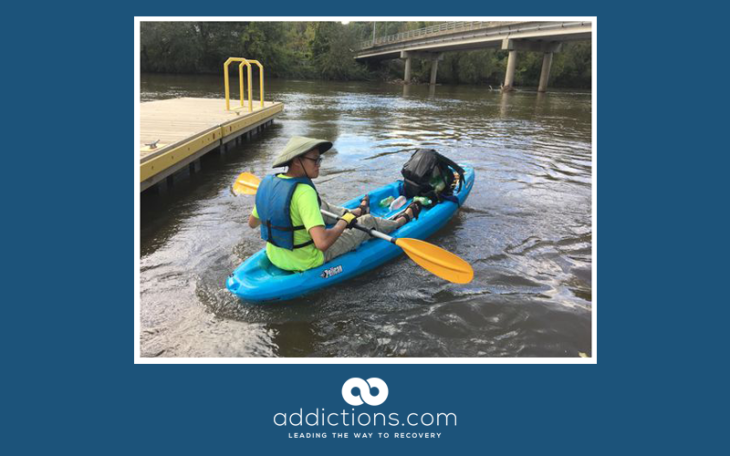 Volunteers cleaning debris and garbage from a river in North Carolina picked up a backpack with improvised meth-making gear in it, which exploded.
Charlie Chang, 25, the volunteer who found the pack in the French Broad River, told local news outlets he didn't look inside it but set it at his feet in a kayak, where it exploded a few moments later.
Chang said he's been voluntarily cleaning up that area of the river for six years and has found many unusual items, including some needles and other drug using gear, but never anything like this.
The black knapsack was found to have plastic soda bottles and some tubing inside it, consistent with an improvised, "shake-and-bake" type methamphetamine manufacturing setup. Chang pulled it from the river near Jean Webb Park in Asheville's River Arts District.
Firefighters and police were called to the scene. A representative of the Asheville Fire Department said there were 26 bottles still in the backpack, and that the 20-ounce plastic bottles were still hissing as the pressurized gas in them attempted to escape.
A bomb squad from the Asheville Police Department responded to the event, near where Craven Street crosses the river. They retrieved the bag from the river, where a startled Chang had kicked it after it blew up at his feet – he was uninjured by the blast. The bomb squad also dragged Chang's kayak out of the river, to prevent further chemical contamination of the water.
The plastic bottles had a pink chemical still in them, indicating they'd been used as "one-pot" meth cooking gear.
Explosives disposal agents from the North Carolina State Bureau of Investigation also showed up, and they contained and disposed of the materials in the backpack.
Asheville GreenWorks, a nonprofit group, oversaw the volunteer cleanup of the river. Although volunteers are trained how to handle potentially dangerous items such as hypodermic needles, GreenWorks may have to add training about this new type of danger.
The North Carolina State Bureau of Investigation will help train future GreenWorks volunteers in safety.