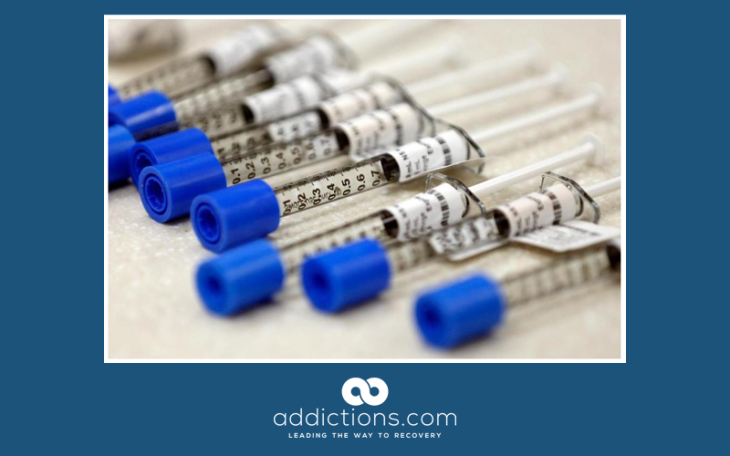 Maryland saw a record number of deaths from fentanyl overdoses last year, and this year is likely to be even worse.
Fatalities from fentanyl flooding the market went up by 42 percent between 2016 and 2017. The powerful synthetic opioid, up to fifty or a hundred times more potent than ordinary heroin, has fueled the epidemic of deaths since heroin overdoses have started to drop.
Robert Neall, Maryland's health secretary, said that already in the first three months of this year 500 or more people died from fentanyl overdoses. In all of 2017, nearly 1,600 people died of the drug, up from 1,100 in 2016. Neall said the number of deaths was "staggering."
Fentanyl is so potent even a tiny amount can kill – it is incredibly dangerous to police officers, other first responders, and drug-detecting dogs – and it is often mixed as a powder with heroin, making the resulting mixture impossible to guess. Many addicts take too much, thinking it is just heroin or has only a little fentanyl in it for an extra kick. Then they die.
The Old Line State has taken steps to fight the epidemic, with Republican Governor Larry Hogan establishing an official state of emergency around the epidemic in 2017. Hogan had a cousin die from an overdose of heroin. He's allowed the state to make naloxone, an anti-overdose emergency medication, widely available at drugstores in Maryland.
Maryland, with about 6 million people, had about 1,000 deaths from heroin overdoses in 2017 – that number dropped from 1,200 the previous year. But fentanyl has more than made up the difference. The total number of drug overdose deaths in Maryland rose 9 percent from 2016 to 2017, hitting 2,282, according to the state's health department.
Deaths attributed to cocaine, which is also sometimes spiked with fentanyl, rose in Maryland last year to nearly 700. Authorities said at least two-thirds of those cocaine deaths were connected to fentanyl. About four years ago, the state said, cocaine deaths started rising after being relatively flat from year to year.
Cocaine overdoses increased for both men and women, in all age groups, and for both blacks and whites, the health department said. For the first time last year, more younger people (aged 25 to 34) overdosed and died than older people (45 to 54), who had previously been the hardest-hit group.
About half of Maryland's fatal overdoses last year took place in the city and county of Baltimore.
Gov. Hogan's office said the Old Line State had spent half a billion dollars fighting the opioid crisis during his tenure. Hogan took office Jan. 21, 2015.
Those looking for a silver lining in this cloudy news pointed to the fact that, although overdose deaths grew 9 percent last year, the rate of increase was much lower than the 66 percent jump between 2015 and 2016.