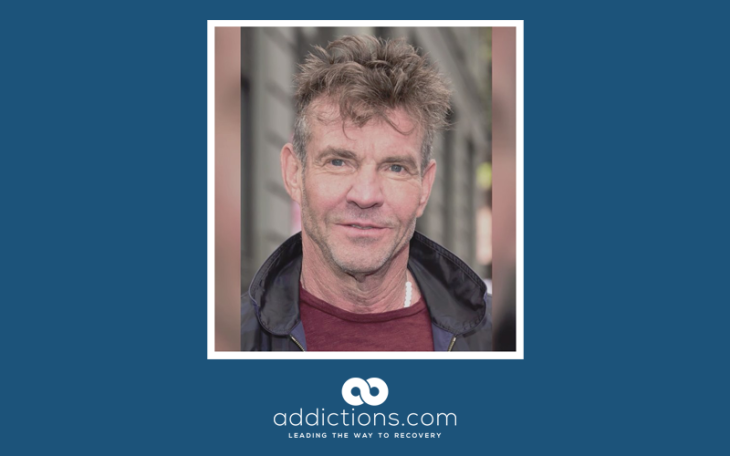 In an interview aired on July 23, actor Dennis Quaid said he used cocaine regularly through the decade of the 1980s.
Quaid said on "Megyn Kelly Today" that he used the illegal drug "on a daily basis" during the period. He has disclosed his addiction and struggles with cocaine in other interviews in the past.
The actor, known for his roles in 1980s films such as "The Right Stuff," "Enemy Mine" and "The Big Easy," told the host he would often lie awake at night yelling at God, cursing his addiction. But by the middle of the next afternoon, he would have forgotten or minimized his late night trauma and would use the drug yet again.
During the interview, Quaid said that some movies made in the 1960s and 1970s even included money in their budgets for cocaine.
Quaid, 64, said a "white light" near-death experience helped turn him around and get him into treatment and recovery. He said he stopped playing music for some time – he leads a band called the Sharks – because of the strong connection between cocaine and the live-music business.
During that difficult decade of the 1980s, Quaid divorced from his first wife, actress Pamela Jane "P.J." Soles in 1983, then became engaged to his second wife, actress Meg Ryan after filming the movie "D.O.A.," which was released in 1988. It was their second movie together. Ryan and Quaid married in 1991 and divorced a decade later.
The actor said he disclosed his cocaine abuse to Ryan when she was his fiancée, and he went into rehab at that point.
Quaid also struggled with anorexia nervosa in the early 1990s when he lost a lot of weight for a film role.
Born in Houston, Quaid said the change from modest middle-class family life to the stressful and glamorous existence of Hollywood fuelled his decisions to use drugs. Like other actors and celebrities, Quaid said he "didn't know how" to deal with his rising fame and fortune.
Quaid is currently separated from his third wife, Kimberly Buffington, and they plan to divorce. The couple has 10-year-old twins, and Quaid has a son, Jack Quaid, age 26, with Ryan.
The actor is slated to appear in a biographical film portraying former actor, California Governor and U.S. President Ronald Reagan to be released in summer 2019.
Quaid told Kelly in the interview that meditation was one technique he used to help counter his addiction.