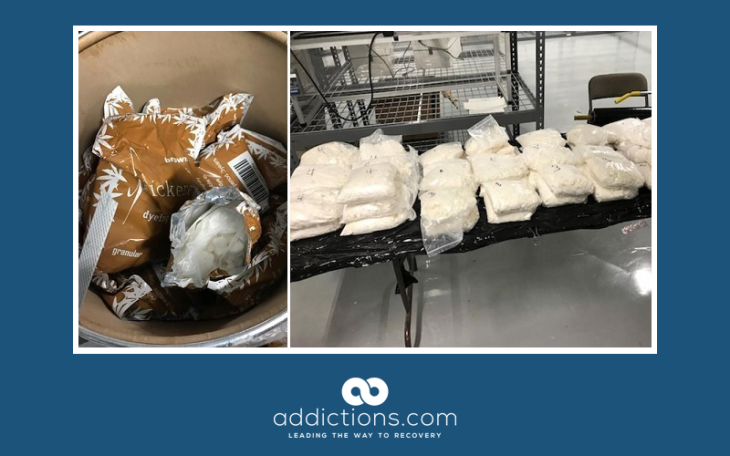 A sniffer dog led authorities in Philadelphia to 110 pounds of fentanyl hidden in a shipment of iron oxide from China last week.
Fifty packs of the illegal drug were hidden in the shipment at the Port of Philadelphia, according to U.S. Customs and Border Protection agents. They guessed the value of the shipment at around $1.7 million.
Fentanyl, which is so potent it can kill dogs who accidentally inhale it, is a major drug fuelling the ongoing opioid epidemic across the United States. Much of it is now made in Chinese laboratories and shipped to buyers in the United States, sometimes even through the U.S. Mail.
A decade or more ago, the opioid epidemic got going with the abuse and misuse of legally obtained pain pill prescriptions, or use of pain patches containing fentanyl. As the epidemic gained strength, some people managed to buy prescriptions illegally from physicians.
But police and Drug Enforcement Administration crackdowns on this side of the market led to a decrease in misused medical fentanyl (although it still is a problem) and a corresponding increase in sales of powerful synthetic fentanyl and heroin.
Chinese drug labs stepped in to fill the void, and have been manufacturing the drug. Laboratory made fentanyl can be purified to such an extent that it is a hundred times more potent than simple heroin, and it can easily kill addicts who take a big dose, thinking it is heroin. Some dealers also mix fentanyl into heroin, making a much more powerful drug that can kill those who take it.
In 2017, port and border officials confiscated close to 1,000 pounds of fentanyl being smuggled into the country. That number has gone up every year, from 440 pounds in 2016 to 984 pounds confiscated in just the first four months of 2018.
Officers found this particular shipment on June 25 while doing "routine examinations" of incoming industrial shipments. A drug-sniffing dog indicated narcotics were hidden inside some barrels that ostensibly contained iron oxide.
Customs officers had to wear special protective gear while searching the shipment, since fentanyl can also sicken and kill people who get it on their skin or accidentally breathe it in.
In the barrels, concealed in the iron oxide, officers found 50 packages of a white powder, which they tested using a special elemental isotope analysis device that uses a laser or infrared light to determine the chemical composition of a substance. The powder was revealed to be fentanyl.
Customs and Border Patrol officers confiscate nearly 6,000 pounds of illegal drugs during a "typical day," according to the agency.