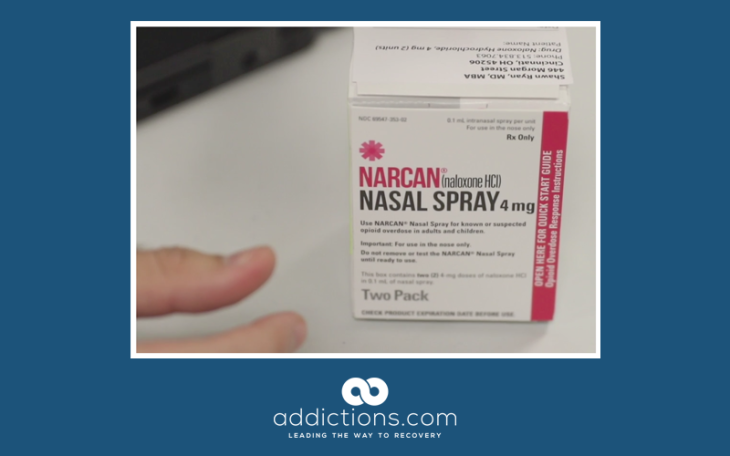 Hamilton County, Ohio, has seen its death toll from opioid overdoses fall after making the medicine naloxone widely available.
Naloxone, an anti-overdose treatment, often administered by nasal spray, works quickly whether taken orally or injected into muscle tissue and if used promptly can counteract the effects of opioids, even a potentially fatal overdose. Police, firefighters and other first responders such as ambulance drivers already carry it in many cities.
Hamilton County, in southwest Ohio, contains the city of Cincinnati and has been hard hit in the ongoing opioid abuse and overdose epidemic sweeping the United States.
But a countywide program started late last year has helped decrease the death rate from overdoses by 34 percent in the first five months of the year.
Cincinnati and county public health departments worked to make Narcan, as naloxone is branded, widely available. Officials also increased access to other programs for treating addiction and drug abuse.
The program has not only cut deaths – but it has also reduced the number of expensive ambulance runs hauling drug overdose victims to hospitals and the overall number of people being admitted to hospital emergency rooms for overdose treatment.
Tim Ingram, the health commissioner for Hamilton County, Ohio's third most populous county, said coordinating the efforts of many different programs and agencies was vital for the program's success, and would remain an essential part of the energy going forward.
An Irish company, Adapt Pharma, which has U.S. operations based in Radnor, Pa., donated some of the Narcan treatment kits distributed in the Cincinnati area. Adapt manufactures the kits and typically sells them for about $75 for two doses.
Data from the effectiveness of the program is still partial and inconclusive, officials said, though they all seem to agree the county is moving in the right direction. Researchers from the University of Cincinnati are collecting information and will crunch the numbers on the program shortly to give a more detailed verdict on how well it has been working.
Hamilton County's population is about 813,000. About 300,000 of those people live in Cincinnati, which is led by Mayor John Cranley, a Democrat.