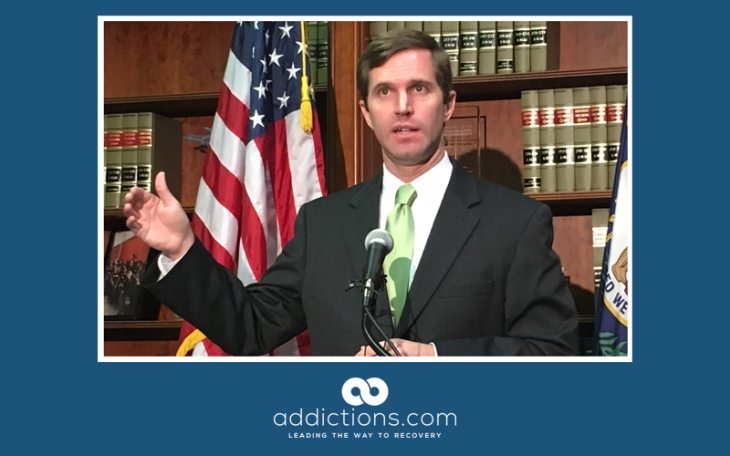 The State of Kentucky sued drugstore business Walgreen Co. this week for playing what it called a "dual role" in the ongoing opioid epidemic in the state, saying the company was both an opioid distributor and a pharmacy.
Andy Beshear, Kentucky's attorney general, filed the suit in Boone County, in the north part of the Bluegrass State, near the Cincinnati metro area, saying Walgreens didn't follow its safeguards regarding sales of unusually large orders of opioids at store pharmacies.
Deerfield, Ill.-based Walgreens has 70 retail pharmacies in Kentucky. The company is now part of Walgreens Boots Alliance following a 2014 merger with Swiss business Alliance Boots.
Calling it one of the "billion dollar companies" that haven't owned up to their responsibility for the opioid crisis, Beshear said Walgreens had caused a great deal of harm in Kentucky. The company recorded about $33 billion in sales in the most recent quarter.
Since that 2014 merger, over 1,000 people a year have died in the Bluegrass State from the consequences of opioid abuse and addiction.
Walgreens, as is customary during litigation, wouldn't comment specifically on the charges in the lawsuit.
Beshear said Walgreens, which has over 8,000 stores in the United States, didn't carefully monitor the shipments of opioid painkilling drugs to its various pharmacies in the state. He said Walgreens filled prescriptions for too many opioids without checking the circumstances of those cases, thus helping to flood the Bluegrass State with drugs that could quickly become addictive and be abused by residents.
This suit alleges that Walgreens engaged in deceptive and misleading business practices. Beshear said the company didn't correctly report on large shipments of dangerous drugs to state authorities, as required.
His choice of northern Boone County as the site of the suit was symbolic, Beshear said because that area of Kentucky has been particularly hard hit by the epidemic of overdoses. Walgreens also has warehouses in that area, close to the Ohio border, where its drugs are kept for distribution to pharmacies.
This is Beshear's sixth opioid-crisis related lawsuit. On behalf of Kentucky, he has also sued a number of drug manufacturers and distributors, including Endo Pharmaceuticals, Johnson and Johnson, AmerisourceBergen, Cardinal Health and McKesson Corp.
Beshear's office has also coordinated efforts to make home drug disposal kits widely available in the state. Some big retailers, such as Walmart, have offered the low-cost kits, which contain chemicals that render unused pills harmless, at their in-store pharmacies. The effort in Kentucky is being made along with Walgreens rival CVS Pharmacy.