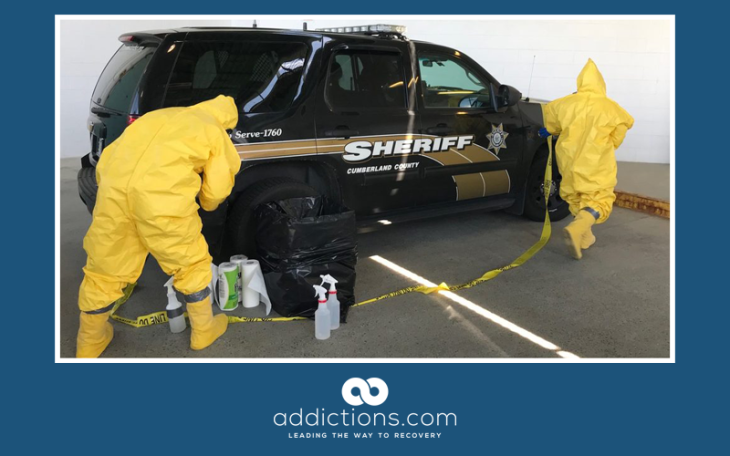 A dangerous spill of fentanyl in the back of a police vehicle shut down intake operations at a jail in Maine while it was cleaned up.
The discovery Sunday of fentanyl spilled by a suspect being transported in the back of a police cruiser required that all intake procedures at the jail – processing, and booking of suspects – be suspended until the drugs could be safely cleaned up.
Fentanyl, a powerful synthetic opioid, can be a hundred times more potent than heroin. Fatal in even tiny amounts, it can't just be swept off the floor and back seat of a police car with a broom. The drug is so dangerous that even police narcotics sniffer dogs can die if they inhale a tiny bit of it. Police officers these days are specially trained not to touch or accidentally inhale unknown substances.
Capt. Wayne Pike said a deputy who was driving suspect Tannis Goodson, 29, to the Cumberland County Jail in Portland early on Sunday noticed the man had spilled fentanyl in the back seat and on the floor of the vehicle. Because the suspect had possibly spread the toxic powder onto his clothes or sheriff's deputies working in the intake area of the jail, all operations there had to be stopped.
The police vehicle was "locked down" for decontamination and Goodson was sent to the nearby Maine Medical Center to be checked out.
Neither the suspect nor the officers were found to be suffering from fentanyl poisoning.
Goodson has been charged with driving without a license, driving under the influence of drugs, breaking the terms of his supervised release, as well as possession of an illegal drug.
Not only can Fentanyl kill if a tiny bit is inhaled – it can also contaminate a person through skin contact. It interferes, particularly with respiration. Most police, firefighters, ambulance personnel and other first responders now carry naloxone, a drug designed to counteract the effects of an opioid overdose.
Maine suffered 86 drug-related deaths in the first 90 days of this year, according to the state's attorney general, Janet Mills. Cheap and deadly fentanyl is driving the opioid epidemic, Mills said.
A study released this month by Maine's chief medical examiner said that the number of drug fatalities this year has been about the same as a year earlier, but that the proportion of those deaths where fentanyl was involved has increased.
As in other areas of the United States, synthetic fentanyl has been taking over from misused prescription opioid painkillers. Deaths due to heroin have dropped, but synthetic fentanyl has largely made up the difference.
One death in Maine in the first part of this year involved carfentanil, a drug that can be even a thousand times more powerful than heroin.