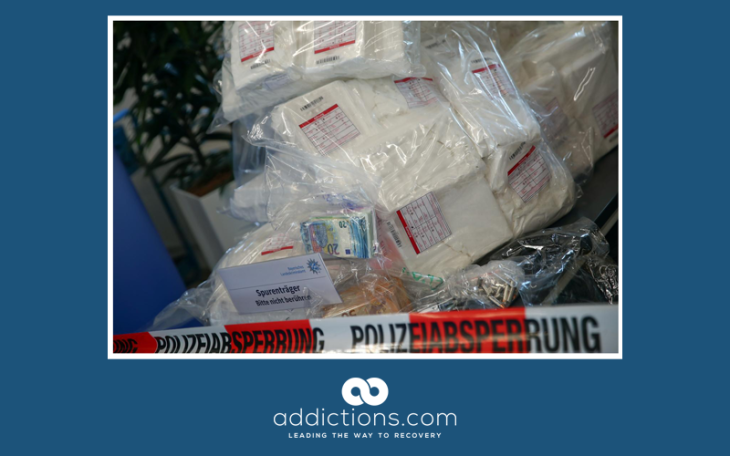 The purity of cocaine in the EU has hit a record high in a decade, a new report reveals; its availability has also increased, and more addicts are seeking first-time treatment. A report released recently by the European Union's European Monitoring Centre for Drugs and Drug Addiction (EMCDDA) showed that more than 20% of Europeans admitted being first-time users of cocaine between 2014 and 2016.
98,000 addiction cases were reported in Europe in 2016 with 90,000 cases reported in 2015.
According to the Director of (EMCDDA) Alexis Goosdeel, the increased consumption was linked to the large global supply of cocaine, with Europe experiencing the consequences of increased cocaine production in South America.
However, the European Commissioner for Migration, Home Affairs, and Citizenship Dimitris Avramopoulos confirmed that the price of the drug has been constant. Thomas Pietschmann, a researcher at the United Nations Office of Drugs and Crime, also confirmed that the number of consumers remained constant.
The report is also linked to an earlier study of particles in drugs found in community wastewater which unwrapped an increased amount of cocaine particle in over 25 cities out of the 30 that were examined between 2015 and 2017. 755mg traces of the illicit drug per 1000 residents in a day was seen in Bristol water.
Barcelona recorded the highest number of cocaine residue (965mg) with Turku city in Finland recording 4.7 mg.
Cocaine is one of the most commonly abused drugs in Turkey and Norway with over 5% of the youth population said to have used the drug at some point in their lives.
More than 2.3 young adults aged between 15-23 in Denmark, Ireland, United Kingdom,  Netherlands, and Spain were reported to have used Cocaine in the previous year. The report further stated that hundreds of users admitted to hospitals with 86% were men while 67% were reported to be women. 25% of the patients said they smoked or inhaled it.
According to statista, an estimated 5.2 percent of the world population (over 360 million people) used illicit drugs in 2014, representing a 24 million increase since 1990. In Europe, the drug problem scale becomes even more apparent when the rate of problem drug use is considered in individual nations. For instance, the prevalence in Italy touched 9.95; meaning, for every 1000 Italians, 10 are likely problem drug users.  Latvia follows closely with a prevalence rate of 9.37, while UK's rate stood at 9.16 in 2015.
Globally, the biggest cocaine consuming countries include Albania, Scotland, United States, and England and Wales.
According to the report, the supply of fentanyl and fentanyl derivatives is also on the rise in the EU.  Ten fentanyl derivatives were reported for the first time in 2017, the study reveals.