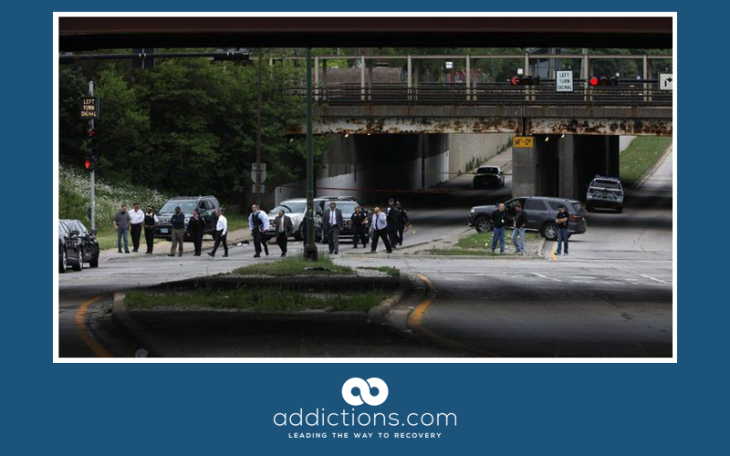 A planned drugs raid ended in tragedy on Saturday as a suspect was shot dead and a DEA Agent hospitalized. The DEA (Drug Enforcement Agency) has issued a statement confirming that a significant operation in the Austin area of Chicago ended in bloodshed this weekend.
Acting on information gathered regarding a high-volume distribution point for Cocaine, DEA agents witnessed the exchange of suspect packages at around 8.45am on Saturday and attempted to stop one of the vehicles involved.  When the vehicle failed to stop, the agents pursued the vehicle after activating their sirens and lights and intercepted it on Central Avenue close to Interstate 290.  It is reported that, at this point, instead of surrendering to police, the driver of the vehicle deliberately drove at, and struck, one of the agents attempting to halt it.  Fearing that the vehicle's driver, Gus Tousis (43) meant to cause serious harm, the officer in question then fired one shot into Tousis's vehicle, striking the driver.
An eye-witness to the incident said that it was clear that the agent fired at the vehicle in self-defense when it drove directly at him.
Cocaine is a strong stimulant derived from the coca plant.  Taken recreationally by smoking or snorting, Cocaine is highly addictive and extremely dangerous.  Chicago's cocaine problem made headlines earlier this year when it was reported that a large amount of cocaine which had been laced with a highly potent painkiller, fentanyl, was changing hands on the city's streets.  During 2017, Chicago police say that over 199 samples of Fentanyl-laced cocaine were seized.
Spokespersons for the DEA and the Cook County Medical Examiner's Office confirmed that despite being given emergency medical assistance at the scene, Tousis died from his gunshot injury.  The DEA agent, who is yet to be named, was taken to the hospital and is expected to make a full recovery.
Earlier in February, Police Commander, Paul Bauer (53) was shot and killed as he pursued a suspect who had been involved in an altercation with other officers.  Bauer, who had answered the call while off duty was a police veteran of 31 years.
The DEA has since announced that on examination of Tousis's vehicle, an extremely significant amount of Cocaine was found.  As the scene underneath the interstate continues to be highlighted by police tape and evidence markers, the DEA says it will be conducting a thorough investigation into the tragic events that unfolded at the weekend.