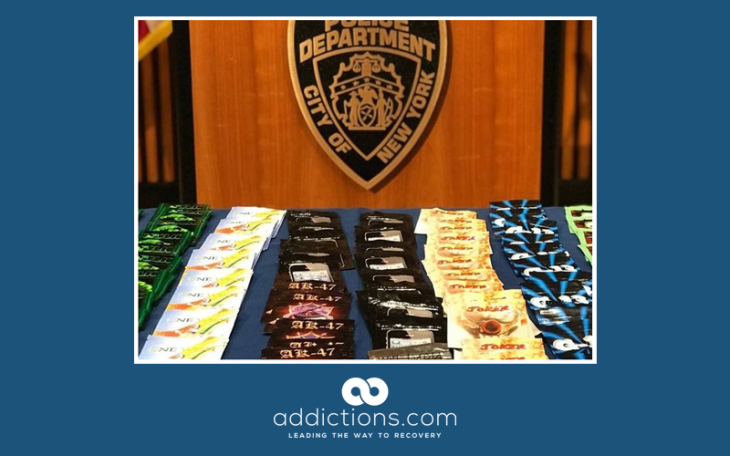 The Brooklyn North Narcotics Division has confirmed that it has seized more than 1000 packets of K2 in a dawn raid today.
In a significant raid on a property in Brownsville, Brooklyn police say they seized a large amount of ammunition, drug paraphernalia and illegal drugs, including K2.
In addition to the 1000 packs of K2 – Brooklyn's biggest seizure to date – police also found three packages of cocaine, 31 clonazepam tablets and several rounds of ammunition, although it is not yet known if a weapon was also found at the property.
K2, also referred to as spice, is an unregulated and highly unpredictable chemical substance which physically resembles marijuana and is known to many as synthetic marijuana. Illegal for sale in New York, K2 is widely available in other parts of the country.  Despite the ban in the Big Apple, last month, 33 people were taken to the hospital in just one day with suspected K2 overdoses. An NYPD spokesperson said during a press briefing that there had been 240 overdoses in the city since the 19th of May this year. Highly dangerous, the drug is often packaged in brightly colored bags bearing child-friendly images such as cartoon characters.
The problem has become so acute in New York, particularly within Manhattan that certain areas, including Myrtle Avenue and Broadway, have become known as 'Zombieland' from the number of users frequenting the areas.
The drugs seized in Brownsville have been confirmed as a particularly dangerous strain of K2 known as 'Cotton Ball' which has been known to cause serious illness in users.
During the raid in Brooklyn, four suspects were arrested; Carlos Alvarez (40), Pablo Morales (29) thought to be residents in the building, Jessica Rodriguez (30) and Jamie Harrison (19) are charged with criminal possession of controlled substances and drug paraphernalia as well as intent to distribute or sell.
Police say that, since the raid, another 75 people have been arrested on suspicion of possession and distribution of K2 and similar drugs which is a positive result in New York's battle against this deadly substance.
Synthetic drugs are an increasing problem across the United States – In April, two people died, and 56 other people were hospitalized after taking K2.  All victims displayed symptoms which included bleeding from the nose, gums, lungs and bladder and, on testing, it was revealed that the drug contained, among other ingredients, rat poison.