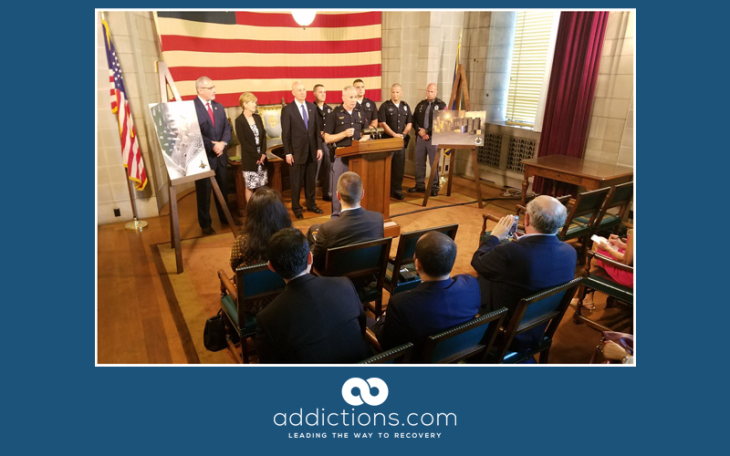 Nebraska State Patrol officers discovered enough fentanyl to kill 26 million people during a traffic stop in late April.
The troopers pulled over a tractor-trailer rig on Interstate 80 close to Kearney on April 26 and found 118 pounds of drugs, which at first they suspected was powdered cocaine.
But after sending the material to the state crime laboratory for analysis, officers were told it was pure fentanyl, potent enough to kill 26 million people.
This was, state authorities said, the biggest ever drug seizure in the Cornhusker State, with the drugs' estimated value at some $20 million.
Near Kearney, a city of about 33,000 people smack in the middle of the state; police became suspicious of a big rig and trailer driving along the shoulder of I-80, which crosses the United States from California to New Jersey and is a significant route for truckers.
When they pulled the vehicle over to check up on it, they found the trailer was empty. Searching the trailer, police found a hidden compartment containing the drugs. The powder was packaged in 42 bundles wrapped up in foil.
Fentanyl is a synthetic opioid similar to heroin and morphine, but far more powerful – it can be 50 times more potent than heroin or 100 times stronger than morphine, depending on how it is purified. Even tiny amounts can cause overdoses or be fatal, so police officers in recent years have had to be specially trained not to inhale unknown drugs accidentally, or to "taste" a tiny bit of them as sometimes seen on old police television shows. Fentanyl is also dangerous to drug sniffer dogs, as it can kill them even if they inhale only a tiny amount.
Fentanyl has been a major cause of many, if not most, drug overdoses in the United States in recent years. As police action and public policy changes, such as tighter restrictions on prescription opioids, have reduced the availability of heroin and other recreational drugs, smugglers have filled the void with purer synthetic drugs often smuggled over long distances. These purer drugs are often more potent than what addicts are used to – surprisingly potent, in many cases – and can kill a user who takes too much.
Besides smuggling drugs in cars or trucks, as in this case, many illegal operations use a humbler system, putting their drug packages into the ordinary U.S. mail.
The driver and passenger, Felipe Genao-Minaya, 46, and Nelson Nunez, 52, both live in New Jersey, where the Interstate ends. Both were arrested and charged with possession of drugs with an intent to distribute them.