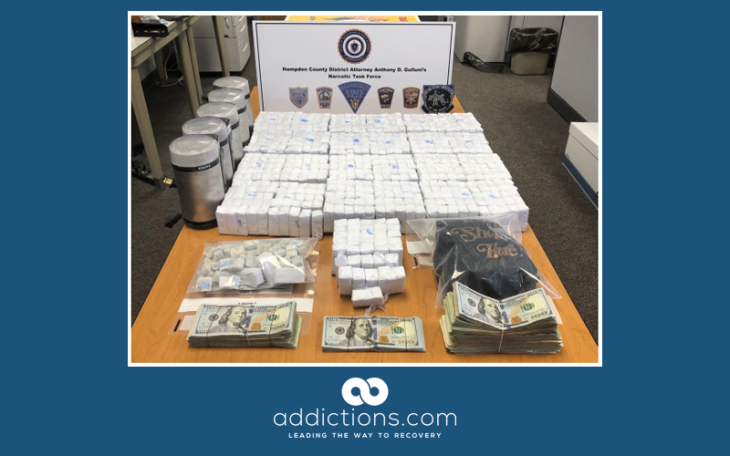 A big drug bust in the North Shore towns of Massachusetts this week captured more than five pounds of heroin or fentanyl and more than 3,000 pills.
State and local police arrested 13 people Monday in connection with the illegal operation. They also confiscated $415,000 during the raid.
The case was cracked via a cooperative investigation and raid between federal, state and local authorities. Police officers from the North Shore departments of Lynn, Peabody, Danvers, and Beverly participated in the joint operation.
At first, cops confiscated 2.5 kilograms of heroin/fentanyl, 1,900 pills, and the money. Later, pursuing the investigation, they collected another 95 grams of fentanyl plus 1,100 more pills.
Maura Healey, the Massachusetts Attorney General, announced the raid and the results of the investigation. She said Massachusetts State Police participated, along with her own office's Enterprise, Major, and Cyber Crime unit. The state police working the case were assigned to the Commonwealth Interstate Narcotics Reduction Enforcement Team or CINRET.
Agents from the U.S. Drug Enforcement Administration also worked with Healey's office.
Healey noted that fentanyl, heroin and other opioids lead to hundreds of overdoses, many of them fatal, in Massachusetts every year. She said a particular focus of her office was breaking up the narcotics trafficking operations that supply and distribute the illegal drugs.
Kerry Gilpin, the superintendent of the state police, said large, well-coordinated police operations like this one severely damage local drug dealing operations.
Twelve of the thirteen people arrested were arraigned on Monday or Tuesday. Two assistant AGs, Gina Masotta and Cesar Vega, both part of the Enterprise, Major and Cyber Crimes division, will prosecute the case.
Among those arrested were Lymbel Guerrero, 28, Erin Driscoll, 32, Aggeliki Iliopoulos, 27, Anthony Lavacca, 28 and Randy Suarez, 30, all five from Peabody, adjacent to Danvers.
Others arrested were Frantz Adolphe, 23, Nelson Mora, 25, Jose Luque Jr., 25, Gregory Inuyama, 27, and Richard Grullon-Santos, 25, all of Lynn, south of Peabody.
Jason Desantis, 24, of Malden, and Rajner Llanaj, 29, of Salem were arrested, too, as was Erick Delrosario, 26, of New Jersey.
Charges against the arrested individuals ranged from trafficking large amounts of heroin (over 200 grams) to possession of marijuana with intent to distribute, as well as conspiracy charged related to their alleged attempts to evade drug laws. Bail was set at amounts from $2,500 up to $500,000, depending on the charges.
AG Healey said the investigation is still going on.