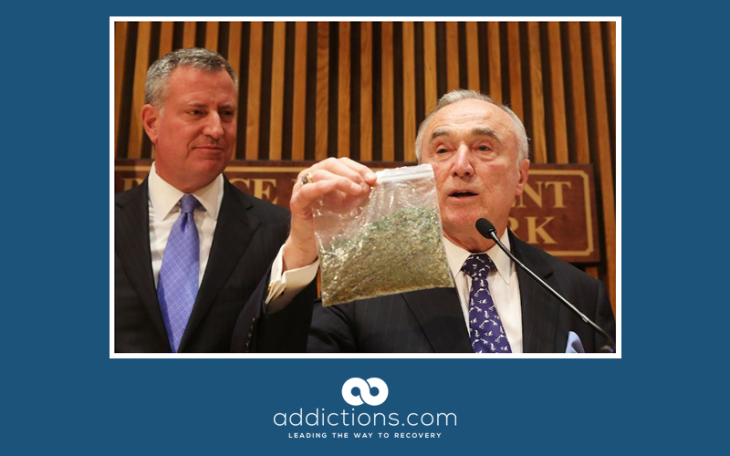 Bill de Blasio, mayor of New York City, told police to quit arresting people for smoking marijuana in public.
The change in policy, announced by de Blasio on Sunday, is part of what the mayor sees as a necessary and ineluctable move towards full legalization of marijuana in the Big Apple.
In the past, de Blasio had said he didn't plan to deemphasize pot prosecutions until after the state government took steps to legalize it. His Sunday statement took a different tack. De Blasio and his staff think steps towards statewide legalization are likely soon from New York Gov. Andrew Cuomo.
In the past, Cuomo, a rival of de Blasio, has also spoken out against making pot legal. But, caught up in the momentum of public opinion and the tide of legalization in other states, Cuomo has shifted his stance, as has de Blasio.
Public opinion in New York has been mixed, but swinging towards a desire for legalization, particularly as reports have emphasized that most people busted for using marijuana in the city are black, even though all races smoke at the same levels.
The mayor, who turned 57 this month, also ordered the formation of a committee to study and prepare for full legalization of marijuana in New York City, something de Blasio sees as inevitable. This group will start wrestling with public policy decisions that have to be made if pot becomes legal – how to approach and restrict public smoking, where to put marijuana shops and other cannabis-related businesses, and how to educate and inform the public about marijuana use and hazards via advertising.
De Blasio has said that he worries about a large industry, akin to Big Tobacco, which controls legal pot and pushes it on the public.
Rather than arrest public pot smokers, the NYPD can now issue them a summons. Officers may be able, depending on circumstances, to frisk someone publicly smoking marijuana, and they'll also check for outstanding warrants.
A preexisting police committee has already been reviewing pot policy and procedures.
Recreational marijuana use is now legal in nine U.S. states and the District of Columbia, while medical use is approved in more than 30 states.
De Blasio, who took office Jan. 1, 2014, has said in the past that he smoked pot himself until he finished college. His wife, Chirlane McCray, has also praised pot and expressed the opinion that it should be legalized.
Although the mayor doesn't think the legalization of marijuana can be stopped, he hasn't quite come out fully in support of changing the laws.