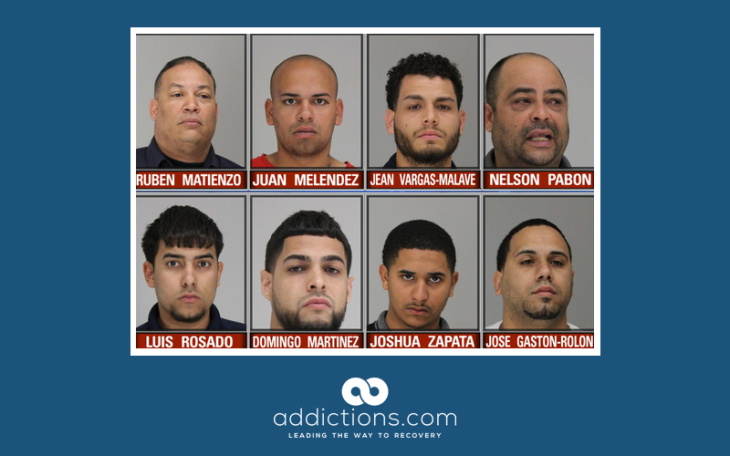 Federal Officers have confirmed that ten men have been arrested, and drugs, guns, and explosives seized at Dallas Fort Worth Airport.
Indictments have been issued for the ten men, all of whom were airport employees after 145 pounds of counterfeit methamphetamine was found.  The men are thought to have used their positions of trust as Spirit Airlines employees to bypass airport security protocols. The FBI believes that the men had transported drugs on commercial flights to many different airports within the United States, including Newark, Liberty International, and Sky Harbor and were preparing to make further shipments when they were arrested.
It is also believed that some of the men were conspiring to ship firearms and explosives using the same method of transport, although the FBI does not believe that this had been carried out as yet.  One defendant was heard boasting that he was able to smuggle anything onto a commercial airliner, including guns and bombs (C4, in particular, was mentioned) but it is not yet known if this was something that was being planned.
Counterfeit methamphetamine is a 'fake' version of the potent drug methamphetamine – a potent central nervous system stimulant which, when used recreationally, can cause serious health problems and death.  Counterfeit methamphetamine contains an amount of meth but is cut with other chemical compounds such as isopropyl benzylamine.  Counterfeit methamphetamine is extremely dangerous due to the dubious nature of the content.
The ten men arrested in the Fort Worth sting were:
Nelson Pabon (47)
Juan Melendez (22)
Jean Loui Vargas-Malave (28)
Ruben Benitez-Matienzo (45)
Joshua Zapata (21)
Jose Luis Gaston-Rolon (24)
Domingo Villafane Martinez (30)
Luis Javier Rosada (21)
Michael LNU (23)
Cristian Cruz-Rodriguez (23)
All are charged with conspiracy to possess a controlled substance and intent to distribute.
Spirit Airlines that employed the men issued a statement saying the company operates a zero-tolerance policy toward smuggling and evasion of security protocols and has assured the public that there are no security concerns within Fort Worth or other airports.
The airline and the FBI have also expressed reassurance that the incident was, in no way, terror-related.
Dallas Fort Worth Airport is the main international airport for the Dallas Fort Worth metroplex area in the State of Texas and the biggest hub for airline giant, American Airlines.  Dallas Fort Worth airport employs 1900 people within the airport building.