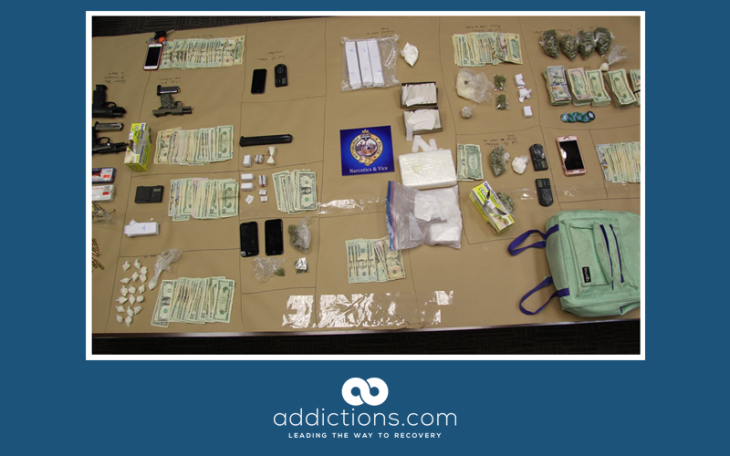 A drug bust in Pittsburgh's Fineview neighborhood on Friday yielded three arrests and the seizure over $100,000 in drugs, according to authorities. Police were originally tipped off by someone who thought drugs were being dealt out of the home on Fountain Street, according to a criminal complaint.
The police arrested Parish Thornhill, Eric Williams, and Daynelle Snead in connection with the drug bust.
Detectives executed a search warrant of the property on Friday at 7:38 p.m.
Once the police searched the home, they found numerous narcotics, drug paraphernalia, weapons, and ammunition, according to authorities.
A news release noted that the police seized the following items:
Three firearms
Cocaine (2kg)
Heroin (50 bricks)
Raw heroin (18g)
Loose cocaine (1 ounce)
Fentanyl (43g)
Marijuana (10 ounces)
Crack cocaine (2 ounces)
Stamp bags of heroin (hundreds)
$18,000 in cash
Hundreds of rounds of ammunition
Digital scales
Thornhill faces multiple drug and firearm charges. Williams faces drug, resisting arrest, and escape charges. Snead was arrested and faces drug charges. All three that were arrested remain in the Allegheny County Jail on Saturday afternoon. Court records show bond was set at $25,000 for Thornhill and Williams, and it was set at $15,000 for Snead.
Heroin has been attributed to thousands of deaths in the United States annually. An addiction to heroin affects the neurotransmitters in the brains of users, modifying the brain's dopamine systems, and also impacts the activation of various genes within the brain.
Long-term effects of heroin addiction can cause adverse complications for those who use the drug, including increased risks for those who inject the drug.
Complications from heroin use can include breathing stomach contents into the lungs, which can cause infection, choking, or death; vomiting and diarrhea that can cause dehydration and imbalance chemical makeup; and depression which can lead to suicidal thoughts; and overdose which can lead to death.
People suffering from heroin addiction face negative physical and mental impacts, which include disorientation and poor motor function, as well as a lack of memory, forgetting things or not remembering important events or matters.