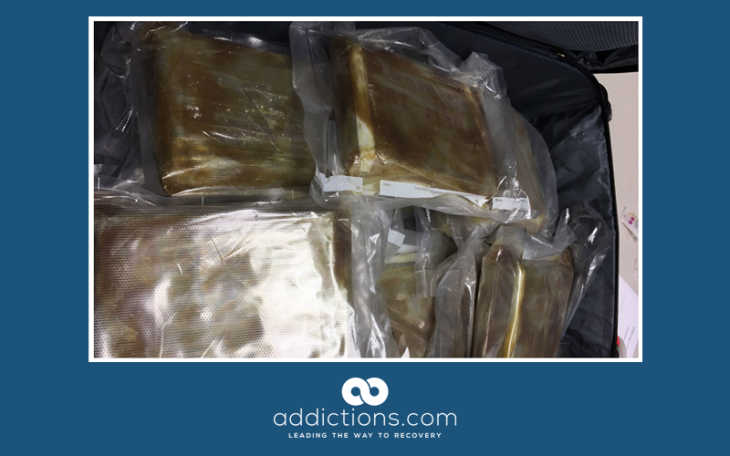 A California drug dealer has pleaded guilty to possession with intent to distribute over 15 kilos of fentanyl. The seizure of fentanyl – thought to be the biggest on record within the United States – occurred during routine surveillance at Omaha Amtrak Station last October.
The court heard that an eagle-eyed DEA Special Agent spotted a new and out-of-place looking suitcase on a self-storage shelf at the station and noticed that the case contained no identification.
After asking several passengers about who could have brought in the suitcase, 28-year-old Edgar Navarro-Aguirre was identified. When questioned, Navarro-Aguirre (28) claimed that the luggage belonged to a friend but consented to it being searched, which led to the discovery of 15 plastic vacuum bags of white powder.
Search, and surveillance operations at bus and train stations are routine within the United States as these are the most common ways of transporting narcotics from one part of the country to another due to ever-increasing security on flights and at airports. In one year alone, close to 300 pounds of marijuana, 30 pounds of cocaine, 15 pounds of heroin and 6 pounds of crack were seized at Union Station.
Every day, Nebraska State Patrol Investigators conduct surveillance on highways, train stations, bus stations, truck stops, and hotels as drug deaths within the State have now surpassed those caused by motoring incidents.
The seizure of fentanyl last October in Nebraska is estimated to have a street value of $15 million with an untold cost to human life.  The packages seized, which each weighed around three pounds, contained multiple doses of the lethal drug.
Fentanyl is a depressant drug created primarily as a painkiller and is thought to be the focal drug in the current opioid crisis in the USA.  Fentanyl can be found in some different forms and can be taken either orally or by injection for recreational use. Up to 50 times more potent than heroin, the drug is highly addictive, and even small amounts can cause loss of consciousness and death.
In recent months, President Donald Trump has vowed to introduce new measures to combat the opioid epidemic within the USA including the provision of more treatment and programs for addicts, more effective education and, tougher penalties for dealers and traffickers including, in extreme cases, the introduction of the death penalty.
Following the seizure in Omaha, Jason Scott of the Nebraska State Patrol said that it is important surveillances which prevent the poisoning of thousands of people every year.  To put the bust into context, DEA Agent, Matthew Barden, explained that, had the 15 kilos of fentanyl been involved in an Amtrak incident causing it to become airborne, it had the potential to kill every single person on that train.
Edgar Navarro-Aguirre is due to be sentenced in June 2018.  The charges, with which he has pled guilty, carries a minimum term of 10 years in prison and a maximum penalty of life imprisonment.