Reading Time: 12 minutes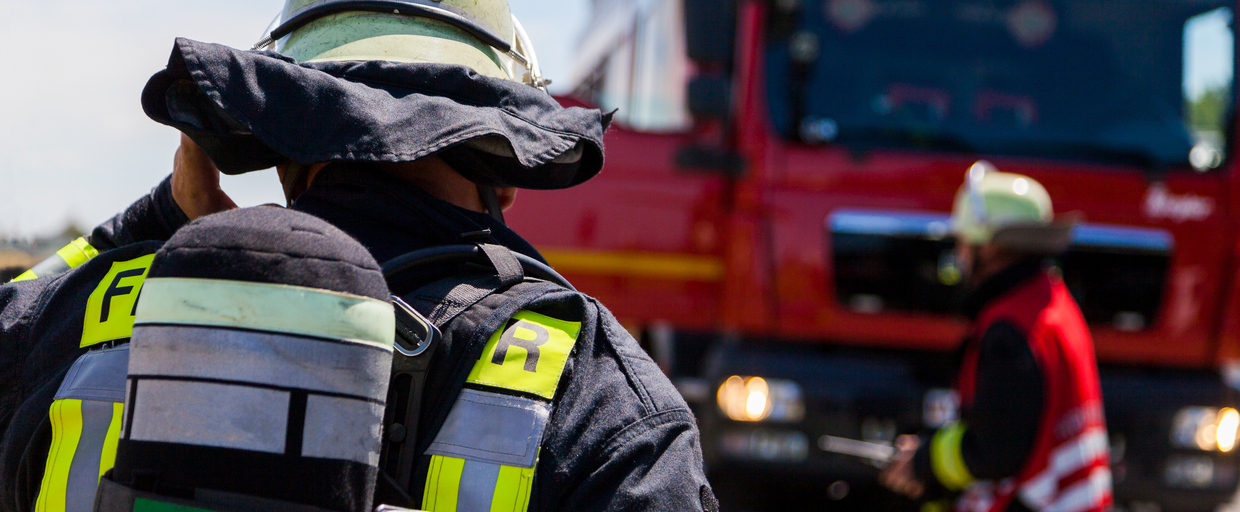 They see more trauma than most. They're the first on the scene when tragedy happens. First responders experience intense situations, sometimes on a daily basis. These experiences can take a serious toll, making access to first responder mental health resources a vital necessity.
Depression, post-traumatic stress disorder (PTSD), substance use disorder (SUD), suicidal ideation, and domestic violence are all more common among first responders when compared to the general population. For example, more than 50% of firefighters are at risk for PTSD, depression, anxiety, and/or alcohol use disorder.2
First Responder Mental Health Statistics 
Keep reading to learn more about the importance of offering resources that support first responder mental health.
of first responders have experienced mental health issues.
of first responders develop behavioral health conditions such as depression.
of police officers experience PTSD.
of 911 operators and dispatchers experience PTSD.
Substance Abuse and First Responders
40% of EMTs engage in high-risk use of alcohol or drugs.1
An estimated 10% of all firefighters abuse drugs.1
An estimated 29% of all firefighters abuse alcohol.1
Domestic Violence Among First Responders
40% of families of police offers have experienced domestic violence, compared to 10% of the general population.3
Of all occupations, police officers experience the highest rate of domestic violence in their homes.3
First Responder Suicide Statistics
As many as 37% of fire and EMS first responders have considered suicide, which is 10x higher than the national average.7
Between 125 and 300 police officers commit suicide every year.7
Barriers to First Responder Mental Health Resources 
Despite the prevalence of mental health disorders among first responders, many people in these professions don't get the help they need.
In fact, fewer than 50% of first responders who are in need of mental health services take the initiative to seek out those services.4 This isn't because resources aren't available; it's due to other treatment barriers.
For example:
First responder culture values self-sufficiency, self-reliance, heroic roles, and saving others at risk to self.
First responders are often unaware of the mental health risks and long-term effects of job-related stress that are present in their careers.
There is a lack of knowledge about how and where to access services for first responder mental health.
There are practical barriers associated with time constraints due to shift work and on-call duties.
First responders fear negative professional consequences, loss of promotion potential, and/or pay if they get treatment.
Treatment Barriers
57% of first responders fear they will experience negative repercussions at work or among their peers if they choose to seek professional help.
Treatment Barriers
40% of first responders admit to being afraid of being demoted or fired if they admit they need professional help in order to deal with work-related mental health issues.
Several steps can be taken to remove some of these barriers. The first is to educate first responders and their families about mental health issues and the relationship between substance abuse and first responders. Understanding the causes, prevalence, and treatment surrounding these issues can help remove the stigma associated with mental health disorders and their treatment.
Second, time constraints can be lessened with more flexible, shorter shifts that allow first responders to access mental health services. Third, first responders must be made aware of the many resources available that offer the support they need.
Early Signs of First Responder Mental Health Issues 
As a first responder, it's crucial to watch for early signs of mental health problems in yourself and in your fellow first responders. Following are some of the top red flags that you or someone else is starting to suffer from mental health issues and need to seek out first responder mental health resources.
Irritability/anger – Do you frequently snap at friends or loved ones? Are things getting under your skin that never use to bother you? A short fuse is a sign of mental health problems.
Anxiety/depression/constant sadness – Is it difficult to feel joy or pleasure? Do the bad days outweigh the good days? If so, it's time to reach out for support.
Reliving traumatic events – Are you experiencing sudden flashes of troubling memories? Do you replay traumatic events in your mind again and again? These are signs of PTSD, which is treatable.
New or increased substance use – Are you using alcohol or drugs more often? Have you started using substances that you never did previously? These are signs that you're trying to self-medicate with substances, which can lead to negative consequences and addiction.
Burnout: Are you experiencing headaches, fatigue, muscle tension, nightmares, digestive problems, or poor self-care? These are symptoms of burnout, which can create problems with mental health, physical health, and substance abuse.6
Promoting a Mentally Healthy Workplace for First Responders
Offer mental health awareness trainings: Providing these trainings equips first responders to recognize when someone needs mental health support, to respond appropriately, and to facilitate getting help for themselves or others.
Establish mental-health-friendly policies: These might include sick leave for mental health reasons, use of leave time for therapy appointments, more frequent breaks based on individual needs rather than a fixed schedule, and permitting food and beverages at work to mitigate the side effects of medications.
Provide employee assistance programs: These programs support employees' physical and mental health. Aspects can include fitness programs, incentivized yearly wellness checks, stress management training, anti-stigma campaigns, and work environments that connect with the outside world through natural light and plants.
Offer resiliency check-ins: These are discussions about how employees are feeling and how they are managing stress and self-care. This is also an opportunity for employees to discuss any additional support they need.
Create peer-support programs: Involve team members with various backgrounds and ranks. Often, first responders are more likely to talk to one of their peers who has been through what they are experiencing.
Make sleep a priority: Create shift schedules that encourage employees to get ample rest. Educate employees about sleep, and complete annual screenings for sleep disorders.
Follow the Asher model: This is a seven-point model to help employers in creating a healthy culture of awareness in first responder settings.5
First Responder Mental Health Counseling and Therapy Resources
List of Substance Abuse and First Responder Mental Health Resources 
Many foundations, non-profits, and professional organizations have developed support resources for the first responder community. Following are 55 of the top resources available for first responders at risk, along with those looking for ways to help them.
Non-Profit Organizations and Family Resources for First Responders
Support Groups and Organizations for First Responders
Crisis Lines for First Responders
Guides and Articles for First Responders
Books About Mental Health in First Responders
Mental Health Apps for First Responders
Resources for Family Members of First Responders
Resources